Paintballing for girls
Always thought paintballing was more of a boy's thing? Think again. Paintball for girls is just as popular! Our centres are frequently booked up with groups of female paintball fanatics, from as young as 8 years old.
Mini Paintball – Perfect for girls
Mini paintball is suitable for children aged 8-10 years, but is also favoured by female players of all ages. Using smaller, lightweight guns with mini paintballs, it means there's less of an impact when participants are hit. Consequently, this option can seem less daunting for first time players.
These fun and exciting events are currently available at the following locations within the UK:
– Surrey paintball centre
– Kent paintball centre
– East London paintball centre
– North West London paintball centre
– Southampton paintball centre
– Birmingham paintball centre
– Coventry paintball centre
– Leeds paintball centre
– Cardiff paintball centre
However, over the coming months mini-paintball will be introduced Nationwide to centres in the UK.
Hen parties – celebrate your last days of freedom at Delta Force
Women celebrating their last days of freedom with their friends can also benefit from an action-packed and memorable experience at Delta Force Paintball . What better way to send the hen off in style, than darting around in the woods and firing at your friends in fancy dress? Superheroes, pink tutus and bridal gowns are just some of the costumes our hens have worn while paintballing.
Special games can also be arranged for hen parties , where certain people in your group can become the focus of the event. Perhaps there's the president to assassinate and her team of body guards to take out? It's up to you to designate the roles.
Mischievous hens can also be set up to be humiliated or terrorised during the game – all completely innocent, but great for unique photo opportunities! But be rest assured, these typical British antics always take place far away from other players (i.e. minors or those with a weak stomach!). Our centres with acres of private forests are ideal for these types of carryings-on!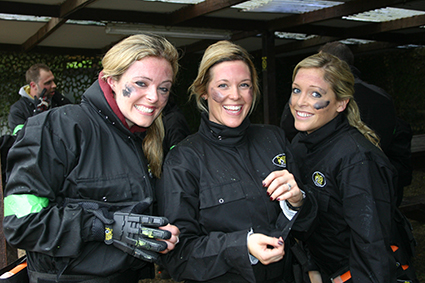 Protection – taking the sting out of worrying
Some girls may be put off paintballing because they believe it hurts. Girls need not worry and can relax knowing that all players at Delta Force Paintball centres are equipped with protective gear of the highest standard; virtually eliminating the chance of receiving a painful hit. Full body armour, combat suits with high padded collars and a goggle system (similar to a lightweight and fully ventilated motorcycle helmet) which fully covers the head are all provided.
Within health and safety circles, it is generally accepted that paintball players should be kitted out with full head protection (in addition to face / temple protection). Unfortunately, the majority of other paintball operators in the UK are still to make the transition and are still using their old-fashioned goggles which provide no protection to the top or back of the head. Delta Force places the utmost importance on your safety and only uses protective wear of the highest standards.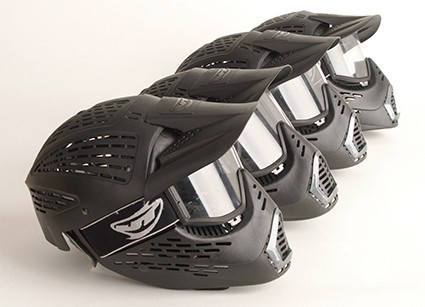 Phone the Delta Force Paintball team on 0203 869 9301 to book your group or hen party for a fun day of paintballing.