Zone
Zombies' Crypt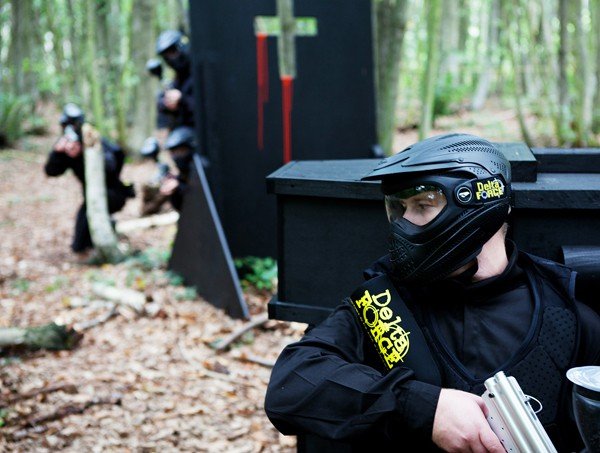 The Dark Crypt is rumoured to be the home of the Zombies; dangerous, undead corpses that dominate the nearby haunted graveyard and terrorise the local area. The Crypt lies deep beneath a historic two storey church, standing tall in the centre of a gloomy field surrounded by coffins and gravestones.
While the Holy Book is upon the Dark Crypt's high altar, the Zombies ravage the area and attack anyone on sight. Your mission is to navigate your way with your teammates close in tow and take the Holy Book from the Dark Crypt's altar and escort it to the Zombies' spawning point to bring peace to the area once again. Be warned, the Zombies are unpredictable and will stop at nothing to kill you.
Tip: It's no secret that seizing control of the Crypt is the key to victory in this game zone but to do so requires well thought out tactics and serious teamwork. Make sure your flanks are covered so you can defend against surprise attacks from the enemy and be sure to plan some surprise attacks of your own so you can storm the crypt! Make sure your teammates are watching your back as there will be eyes on you at all times!
This Game Zone is available at:
Effingham, South West London Paintball Centre
Liverpool Paintball Centre
Luton, North London Paintball Centre
Maidenhead, Berkshire Paintball Centre
Manchester Paintball Centre
Newcastle Paintball Centre
Norra Stockholm Paintball Centre
North Bristol Paintball Centre
Sheffield Paintball Centre
Södra Stockholm Paintball Centre
Tunbridge Wells Paintball Centre
Upminster Alpha, East London Paintball Centre
Upminster Bravo, East London Paintball Centre
We are 5-Star accredited members of the UKPBA (UK Paintball Association – the governing body of the sport in the UK), and we have full Public Liability Insurance. We look forward to welcoming you at one of our paintball centres for your next paintball event. Book your day out now by visiting the paintball booking page or calling our events team 24 hours a day, 7 days a week on 0203 869 9301.