Schools
Delta Force Paintball – the number one paintball provider when it comes to arranging a day out for school groups.  We regularly host paintball events for school pupils aged 8+ years and frequently the reasons cited  – in addition to our amazing game zones – are the high safety standards in place at our network of UK paintball centres and our level of experience when it comes to providing memorable and engaging school trips.
Organising any kind of outdoor event for school children is a potential nightmare for anyone charged with the task – how can you be sure that the venue you have in mind is safe, well equipped, well managed and properly insured? The answer is simple – choose Delta Force Paintball.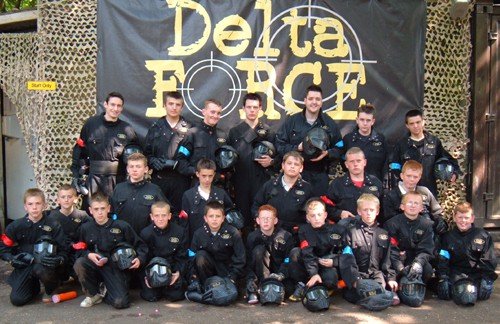 A 20 year record of high achievement:
Delta Force Paintball operates over 40 paintball centres throughout the UK, Ireland, Australia, New Zealand and Canada.  It has a first class safety record, and has documented health and safety practices and procedures firmly in place to maintain that position.  It's reputation speaks for itself – to read more please see the testimonials section.
Paintball games are great fun, wonderful exercise and a great 'leveller' (in that no previous experience or pre-existing sporting ability is needed).  Men and women, girls and boys can participate on an entirely equal footing.  The equipment provided by Delta Force Paintball – from the full head goggles, to the body-armour, to the padded combat suit – provides an equalled level of comfort and protection, and fully succeeds in taking the 'pain' out of paintball!
Inside tips for the organisers of school groups:
Always ensure the venue you have in mind:
Provides FULL HEAD GOGGLES (completely covering the top, back and sides of the head).  These goggle systems not only protect the head from painful impacts, they also make it impossible for the goggles to slip down the face – something that has led to injuries elsewhere.
Performs a physical touch-check on the goggles of every player, prior to every game (to ensure the safety strap under the chin is properly fastened, and the goggle-system is thus securely attached to the player's head).
Pays all it's marshalling and other personnel properly through an HMRC approved PAYE system (accounting for tax and NI).  This might seem as though it's unimportant but nothing could be further from the truth.  Insurance premiums are calculated and based upon a paintball operators declared turnover and payroll; if these are understated due to takings being diverted to pay staff in cash – then the insurance will be invalid.  A paintball operator may be able to show you a certificate of insurance – but if he diverts his takings then that policy may well be voided by the insurance company in the event of a large claim.
Does not prepare food on the premises.  Safely preparing food for 100's of people in the outdoors is a specialist skill – something best done by the Army Catering Corps or similar.  A home-made 'Jungle Burger' might sound delicious, but when prepared outdoors, by amateurs, it is a recipe for disaster. Food poisoning is probably the greatest danger faced by paintballers on a day-to-day basis.  Food should be imported to the paintball centre from a reputable outside catering company operating from properly managed and regulated commercial premises.
Absolutely prohibits the removal of goggles when outside the netted safe-zone.  This probation must be complete.  It is simply not safe to allow goggles to be removed (eg: for cleaning/for players to rest) when outside the netted safe-zone.  It is not enough that 'all players have lain their guns on the ground' – the only way to fully ensure a safe environment is to keep paintball guns and unprotected faces 100% apart.
Incredibly, Delta Force Paintball is to the best of our knowledge the ONLY paintball operator in the UK to comply with all five of the above 'essentials'.  In the words of our MD "I simply wouldn't allow my children to play paintball anywhere else".
Paintballing is a very safe activity (statistically safer than golf, and this is reflected in the fact that it is exempt from AALA registration), but doubly so when conducted in expert hands.
For further information please feel free to contact one of our friendly event co-ordinators at any time on 0844 477 5115.
The fun-factor:
Safety is our first consideration – but we also never overlook the fun-factor – after all that's what the youngsters care most about.
Delta Force Paintball is renown for the high quality of it's equipment and facilities.  Often selected by film and TV companies as a venue for filming and/or product launches – Delta Force's movie-set quality game zones are in a league of their own.  ITV's new series Law & Order (UK) recently filmed an episode at our Surrey Paintball Centre – the same venue as chosen by Warner Bros to be the UK launch venue for the Demi Moore film 'GI Jane'.
Delta Force Paintball owns a large number of artillery pieces, armoured vehicles (including tanks), several airplanes and helicopters and, bizarrely, the only Scud Missile in private hands in the UK. The Scud and it's supporting convoy of giant Soviet-era trucks featured in the 007 movie 'Tomorrow Never Dies' – it's now out there in the Delta Force forest waiting to be discovered by you and your school group.  Fun times!
To download child registration forms please CLICK HERE.
To view prices and a typical days itinerary please CLICK HERE.