Paintball Armour
Does paintball hurt? This is a very common question – and the honest answer is yes, it can hurt. That is, unless you are wearing Delta Force body armour.
Delta Force supplies the latest in custom-designed paintball body armour to all players entirely free of charge, allowing you to enjoy your day in complete comfort and safety.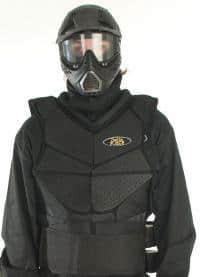 Delta Force, the industry leader in paintball games, commissioned the design and manufacture of this essential piece of NEW equipment. A masterpiece of design, the 'suit' comprises of multiple rigid plastic plates contained within a flexible skin. The protective plates and flexible skin are fully ventilated to prevent a build up of body heat.
Delta Force can now proudly say that all of our paintball centres nationwide are fully equipped with new body armour for your comfort and safety, although it is optional to wear on the day. If you have any friends or family members who have previously been too shy to play paintball – bring them along. It's a whole different ball game now! Body armour is subject to availability at some centres, so please call for more information.