First class safety record
Your safety is our paramount concern
Research suggests that paintball is in fact an extremely safe sport (for example, paintballers suffer fewer injuries per player than do footballers or even golfers). Nevertheless, as with any vigorous outdoor sport there exists the potential for injury. The primary potential danger in the sport of paintball is from the impact of a paintball with an unprotected eye. Paintballs travel very quickly and have the potential to cause serious injuries.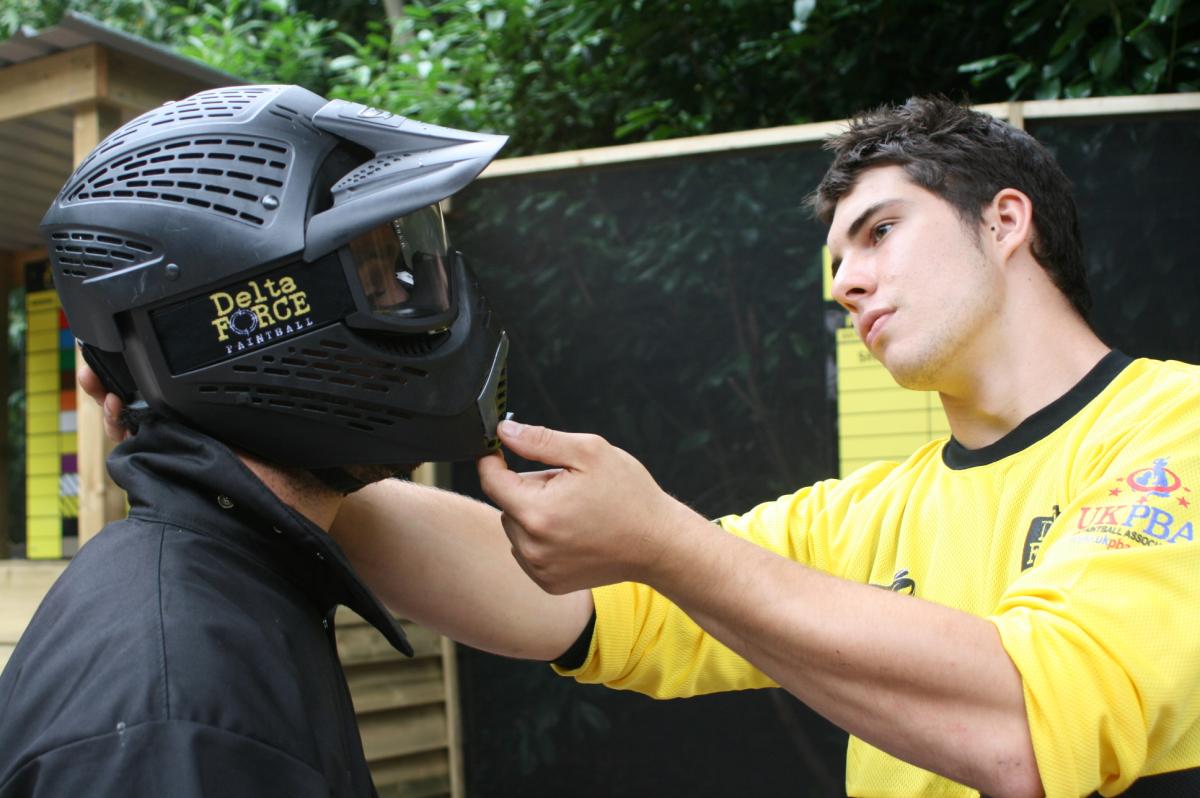 Delta Force marshals perform a full mask touch test before each game
In order to protect you from the remote possibility of sustaining such an injury Delta Force has taken the following precautions:
Invested in the latest full head goggle protection system – incorporating BS compliant lens technology (as well as ear, temple and crown of head protection).
Instituted a policy of manually checking every player's goggles prior to the start of every game (to ensure the goggles are appropriately fitted and secured).
Fully enclosed basecamps (safe zones) with high mesh safety netting.
Prohibited any paintball gun from entering the basecamps (safe zones).
Prohibited the removal of goggles in the game zones.
Invested in the training of marshalling personnel – to ensure that they strictly enforce the 'goggles-on' rule at all times.
Standardised pre-game safety presentation so that it is delivered over a public address system according to a pre-recorded, Health & Safety approved formula. This ensures that no detail is ever overlooked.
Instituted a 'pre-player arrival goggle integrity check' – under which all goggles are individually inspected by trained staff prior to issue at the beginning of every day. Written records are kept and returned to HQ. Any goggles not up to our high standards are rejected and returned to HQ for decommissioning.
At Delta Force 'head-shots' do not count (this is to discourage players from shooting at one another's heads).
If any player lifts or removes their goggles outside of the basecamp (safe zone) they will be immediately excluded from the game and not permitted to return that day. Many of our competitors merely impose 'penalty points' for goggle-lifting – we believe this sends out the wrong message – your eyesight is more important than that. We will not accept any short cuts or compromises when it comes to your safety.
All of our practices are the subject of in-depth health and safety risk assessments. These are constantly updated, upgraded and improved.
All Delta Force Paintball senior managers and assistant mangers hold current first aid qualifications and many other senior staff have an ex-services background and hold similar qualifications.  An environmental health officer described our health and safety documentation as exemplary and remarked that it complies wholeheartedly with the spirit of the legislation and that it could serve as a model for any similar operator – high praise indeed!
You are in safe hands with Delta Force Paintball.
See also our Equipment, and Full Public Liability Insurance pages.