Zone
London Apocalypse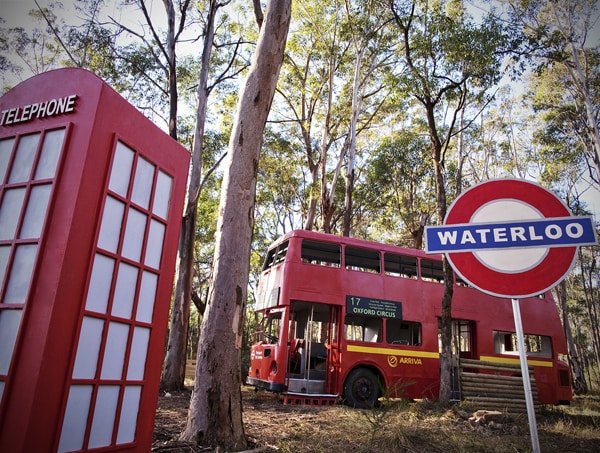 You have been selected by the State Department to protect the American President on his tour of the UK. After a top-secret meeting with the heads of state, your elite unit is escorting the president to his vehicle when you suddenly come under attack from all directions. Communications are down so you retreat into a nearby woodland and take cover inside an old bus. Will you put your life on the line and protect the president until reinforcements arrive? The world is counting on you.
The rugged terrain, phone boxes, abandoned bus stops and train stations are all hurdles to your success. You will need to safely escort the President from the bus to the safety of the nearby embassy. If you employ the correct strategy you will be able to defeat those who are hot on your tail and out to get you.
Tip: Having your whole team pinned down inside the bus is a surefire way to lose the round. Be sure to keep a few members of your team on the offensive outside the bus. Riot shield can be used extremely effectively to provide cover as you lead the President to safety.
This Game Zone is available at:
Birmingham Paintball Centre
Cobham, Surrey Paintball Centre
Crawley, South London Paintball Centre
Effingham, South West London Paintball Centre
Gerrards Cross, West London Paintball Centre
Manchester Paintball Centre
Newcastle Paintball Centre
Reading Paintball Centre
Southampton Paintball Centre
Upminster Alpha, East London Paintball Centre
Upminster Bravo, East London Paintball Centre
Wakefield, Leeds Paintball Centre
West Glasgow Paintball Centre
Westerham, Kent Paintball Centre
We are 5-Star accredited members of the UKPBA (UK Paintball Association – the governing body of the sport in the UK), and we have full Public Liability Insurance. We look forward to welcoming you at one of our paintball centres for your next paintball event. Book your day out now by visiting the paintball booking page or calling our events team 24 hours a day, 7 days a week on 0203 869 9301.