Zone
Operation Desert Storm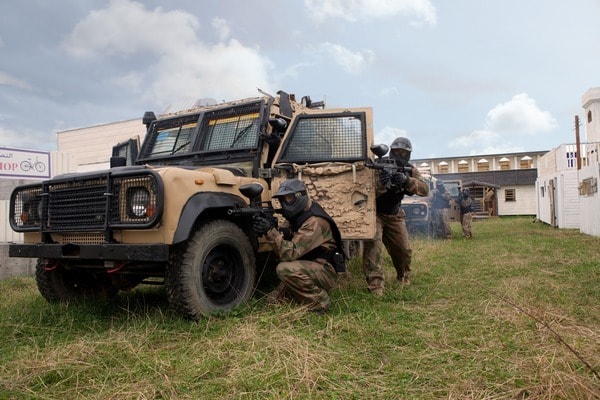 Modelled on a British Forces elite training facility, Operation Desert Storm recreates the most realistic modern-day Middle Eastern warzone. A convoy of six armour-plated military vehicles carrying the President has suddenly been ambushed midway between the hotel and the heavily guarded embassy. You are now faced with the task of escorting the President safely to the embassy with the help of your elite squad. However, the local rebels have another idea – they have their eyes on the President, and they know the streets like the back of their hands. With shots raining down on you and your comrades, you must battle your way through the narrow streets and avoid the sniper vantage points in order to deliver the President to safety.
Top tip: There are lots of places to hide in the war-torn shops lining the streets, here you can bunker down to re-group with your teammates as you plan your attack and advance to the safety of the embassy. We recommend you make use of riot shields to provide essential cover as you escort the President and eventually reach the evacuation point. You'll need to keep an eye out for sniper shots coming from the tops of buildings – the enemy will be trying to stop you and your teammates at all costs.
This Game Zone is available at:
Coventry Paintball Centre
Sheffield Paintball Centre
We are 5-Star accredited members of the UKPBA (UK Paintball Association – the governing body of the sport in the UK), and we have full Public Liability Insurance. We look forward to welcoming you at one of our paintball centres for your next paintball event. Book your day out now by visiting the paintball booking page or calling our events team 24 hours a day, 7 days a week on 0203 869 9135.