Zone
A Bridge Too Far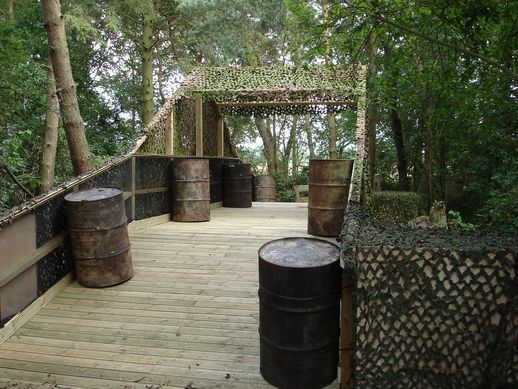 September 17th 1944. Allied forces have deployed huge numbers of paratroopers into the Netherlands in the largest airborne operation to date, codenamed Operation Market Garden. As your unit moves through the Dutch countryside you encounter enemy fire. Your mission is to fight your way through the heavily defended enemy posts, seize control of the bridges that cross the river Maas and hold them until reinforcements arrive. No retreat, no surrender…
In this fast-paced mission, both teams begin at opposite ends of the field, with an equal distance separating them from the central objective which in this case is a fortified bridge. Often there are surrounding bridges which teams can attempt to take control of to help with the main attack on the central bridge. The team that captures and holds the most structures at the end of the game will end up victorious.
Tip: Covering fire is the name of the game here – get the fastest members of your team to make a dash for the objective(s) and keep up a blanket of covering fire.
This Game Zone is available at:
Banbury, Milton Keyes Paintball Centre
Billericay, Essex Paintball Centre
Birmingham Paintball Centre
Cardiff Paintball Centre
Edinburgh Paintball Centre
Holmes Chapel, South Manchester Paintball Centre
Kings Langley, Watford Paintball Centre
Lichfield, Staffordshire Paintball Centre
North Bristol Paintball Centre
Wakefield, Leeds Paintball Centre
We are 5-Star accredited members of the UKPBA (UK Paintball Association – the governing body of the sport in the UK), and we have full Public Liability Insurance. We look forward to welcoming you at one of our paintball centres for your next paintball event. Book your day out now by visiting the paintball booking page or calling our events team 24 hours a day, 7 days a week on 0203 869 9301.