Zone
The Haunted Graveyard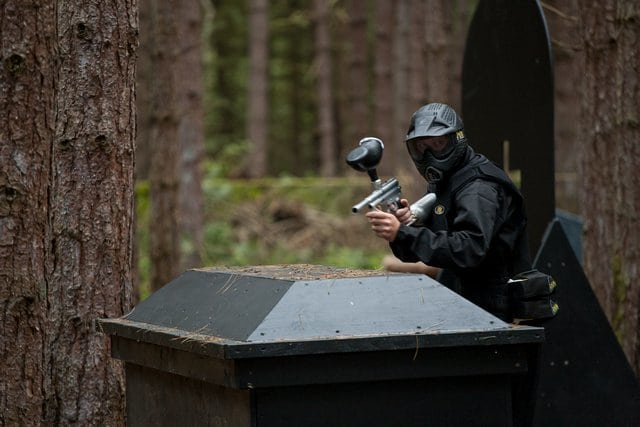 Dark, gloomy and dangerous. These three words typify the elements that you and your teammates are bound to face as you aim to eliminate the elusive and mysterious enemy. Many stories have been told of the dangers to those who enter the Graveyard, as few have returned from this mission. As you make your way through the haunted graveyard you will need to find strategic cover behind tombstones and anything else that will provide you with protection. Your timing and aim will need to be impeccable as you pick off the enemy one-by-one. Your mission is to eliminate the evil forces and proceed through the graveyard to safety – this is the only way to restore peace to the land. Will you attempt the 'impossible' to save the human race, or will you and your comrades succumb to the dangers of the area and come to an untimely end?
Tip: Don't get ahead of yourself – advance slowly but surely through the graveyard and make sure that no hidden enemies lurk behind the gravestones. Smoke greandes come in handy in this mission to provide cover as you make your way to safety. Remember – one wrong move and you're exposed, and you don't want the creatures hiding in the dark shadows to find you…
This Game Zone is available at:
Billericay, Essex Paintball Centre
Birmingham Paintball Centre
Cardiff Paintball Centre
Hemel Hempstead, North West London Paintball Centre
Holmes Chapel, South Manchester Paintball Centre
Orpington Paintball Centre
Plymouth Paintball Centre
Southampton Paintball Centre
Wakefield, Leeds Paintball Centre
We are 5-Star accredited members of the UKPBA (UK Paintball Association – the governing body of the sport in the UK), and we have full Public Liability Insurance. We look forward to welcoming you at one of our paintball centres for your next paintball event. Book your day out now by visiting the paintball booking page or calling our events team 24 hours a day, 7 days a week on 0203 869 9135.