State of the art paintball guns
All Delta Force Paintball centres stock the 0.68 calibre Inferno Machine Gun. The Inferno is a rapid, well-finished semi-automatic gun that allows first time players and veterans alike to play with a marker that gives serious accuracy and firepower.
Sculpted out of burnished metal, each gun is lovingly maintained by our team of gunsmiths who are proud of their work, and proud to share these amazing firearms with you.
The Inferno Machine gun offers:
Unbelievable accuracy
Reliability during battle
Light-weight, easy to manoeuvre frame
Fast-firing action (up to 7 rounds per second!)
Comfort in design and;
A sleek and stylish finish
If you have any technical questions about the Inferno semi-automatic machine gun please feel free to get in touch.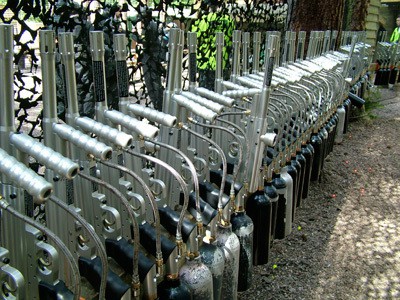 See also our M16 upgrade guns, armour and goggles.