Kids paintballing for 'Young Guns'
Looking for paintballing for kids in London and the UK? You've come to the right place.  Before we tell you more, check out the short video below for an idea of what paintballing at Delta Force Paintball is like:
Kids Paintball for Birthday Parties, Outings and School Trips
We host junior paintballing days for 10-13 and 14-16 year olds – these make excellent birthday paintball parties, family trips and school outings.  Groups of any size are very welcome; safety is our first priority and all children are carefully supervised during the games throughout the day.  Delta Force Paintball has an outstanding safety record and an enviable reputation for organising great kids days out.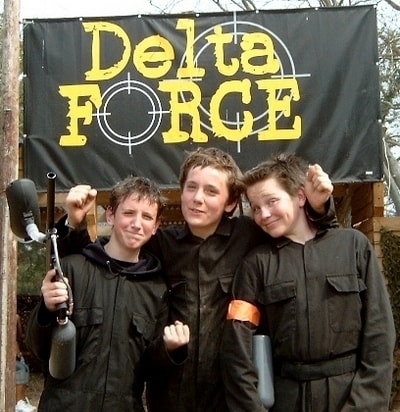 "Thanks for an awesome day"
Mark Harris (aged 13)
Kids Paintballing Registration Forms
Registration forms are completed by every player on arrival, this form also includes a parental consent which must be completed by a parent or guardian for players younger than 16. Delta Force staff will be on hand to help the children, but parents and/or teachers may find it saves time to download the registration forms from this website, and pre-complete them.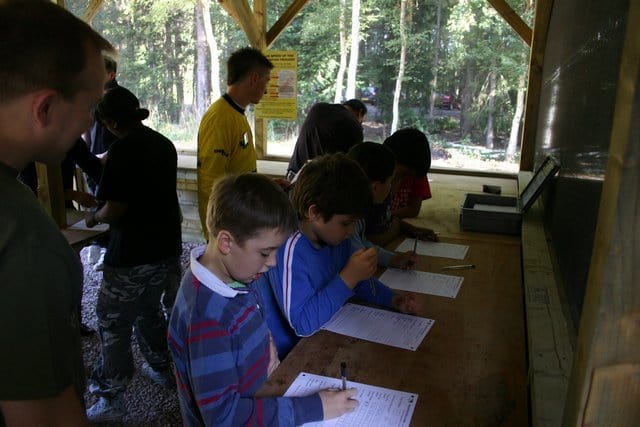 Little people filling-in the registration forms before their paintball event (Dad and Marshal helping).
Enter the Paintball Basecamp
Once through into the basecamp it's time for the children to try-on all the gear and make sure that everything fits them perfectly.  Again, Delta Force staff will be on hand to help, so it is not necessary for parents to remain with the children (the exception here would be under 14's where we advise a parent to stay on-site for the day).   An Information for parents guideline with details of what children can expect from a day of paintball can be downloaded here.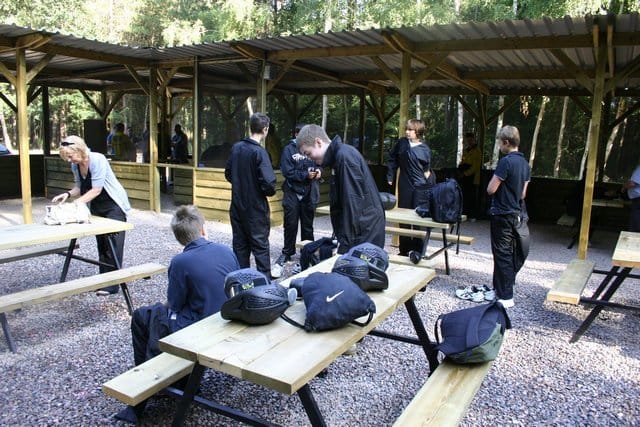 Trying-on all the kit before the games begin.  Don't worry, everyone looks funny in the combat suits!
Kids Paintballing Safety Presentation
The Centre Manager will summon everyone to the stage when it's time for the safety presentation.  It may be that your child feels at this point that he's been drafted into the army – and that's not a bad thing.  We require all children to pay very close attention the safety speech; it is at this time that the Centre Manager will clearly explain the safety regulations, the rules of the game, and how to use the equipment.  The Centre Manager delivers the speech from a stage, whilst Senior Marshals patrol the outer edge of the audience ensuring that everyone is paying attention. Parents often comment that Delta Force has a far greater awareness of safety than other paintball operators they have visited in the past.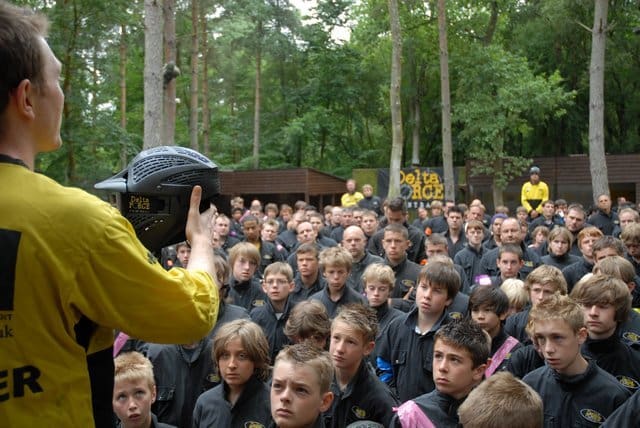 This is the time to pay attention. The speech doesn't last long but it's very important.
Safety Goggle Spot Checks for Safe Kids Paintballing
When it's time for the players to leave the basecamp for their first game, the Centre Manager will summon them by team colour (they'll know which team they're on by the colour of their armband). Immediately before leaving the basecamp a marshal will 'touch-check' the goggles of every player to ensure their goggles are properly fitted and that the chin strap is securely fastened.  This practice is unique to Delta Force Paintball and very likely one of the reasons we have a first class safety record.  With the chin strap fastened it is impossible for the helmet to become accidentally dislodged, it also prevents the goggles being deliberately removed (contrary to all instructions) in the 'heat of the moment'.  The other unique feature of Delta Force's goggle-system is that it fully encloses the head in a rigid plastic shell – with the top of the head entirely covered, it is impossible for the goggle unit to slip down the face, accidentally exposing the eyes.  After 20 years, we have truly thought of everything!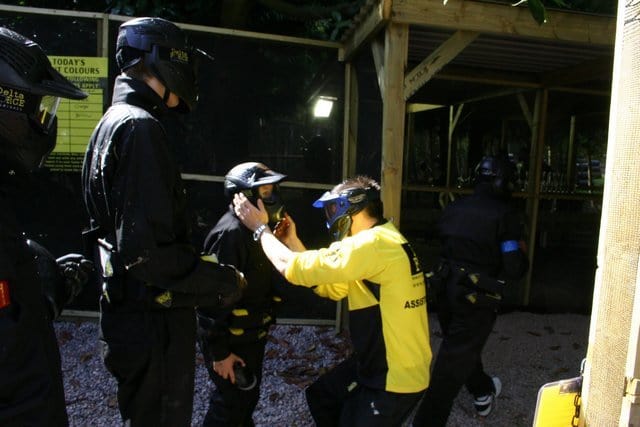 Enter the Gun Zone to Collect Your Paintball Marker!
Delta Force staff 'touch-check' the goggles of every player, before every game.  We take your safety very seriously.  Players are not issued with a paintball gun until after the safety presentation, and even then they are never permitted to bring it into the gun-free basecamp.  All paintball guns remain outside the basecamp, at all times during the day.  It is from the 'gun zone' that the weapons are issued before each game, and taken back into safe-keeping once it ends.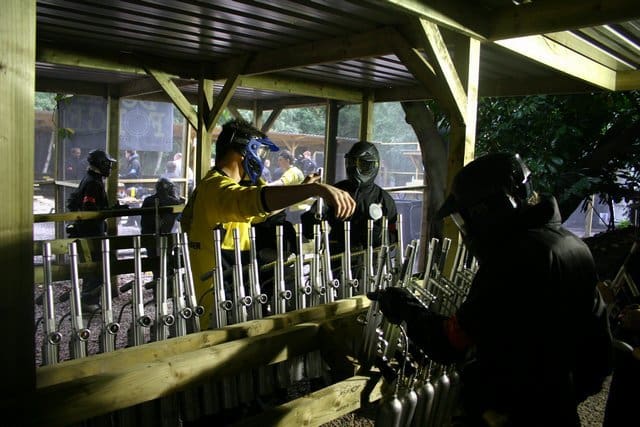 The guns always stay outside the netted safe zone (basecamp).  Marshals issue them at the start of every game.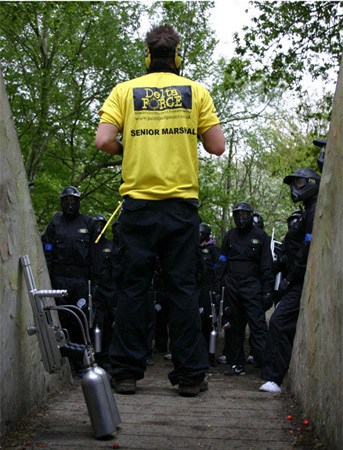 All players are closely supervised during the games throughout the day, and we pay particularly close attention to our younger guests.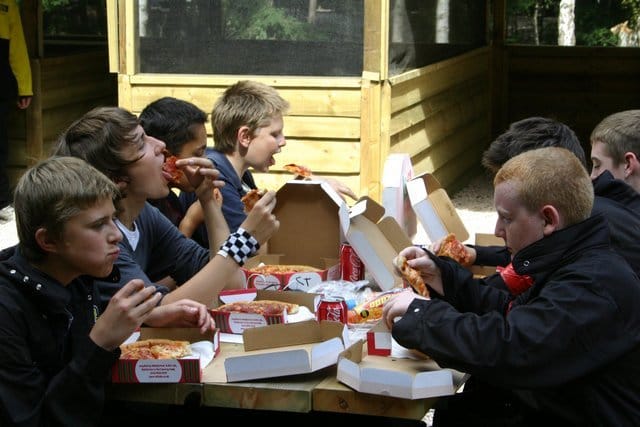 At lunchtime we all break for a much needed Pizza!
Another six games follow the lunch break, and then the day ends with a prize giving ceremony at which the scores are reviewed and certificates are awarded to the winning team and to the runners-up.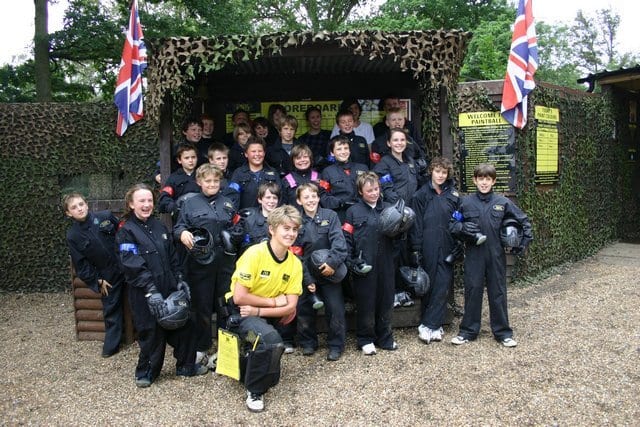 It's the end of another great Young Gunz event at Delta Force Paintball in Surrey
Prices:
All-inclusive Junior Days (9.15am to 4.30pm approx.)
£14.99(1) including 100 paintballs per person
£24.99(1) including 300 paintballs per person
£34.99(1) including 500 paintballs per person
Includes:
12-14 action-packed games
Choice of movie-set quality purpose-built paintball game zones
All day supervision & tuition by Delta Force staff
FULL HEAD anti-mist goggle system – only at Delta Force!
Body armour – full protection – back and front
Ninja suit with high padded collar – fully protects the neck
Latest USA-spec rapid-fire semi-automatic machine guns
Unlimited gas propellant
End of day debrief and TOP GUN awards
Full public liability insurance
A safe, friendly and professional service
How many paintballs do players need?  This is a very common question – and there is no easy answer. It simply depends how many times the player chooses to pull the trigger, and how much the bill-payer wants to indulge him/her.  The average use across the entire the company (by Juniors and Adults) is 400-500 paintballs per person per day, however children generally use fewer paintballs than adults. Parents should decide their budget, and make their selection of package accordingly. We consciously structure our day so as to allow parents to ration out paintballs for each game and therefore maintain a budget. Throughout a day we play on six unique game scenarios, with two games played on each. Between each game scenario all players return to the base camp for a 10 minute break – this is the opportunity to clean goggles, have a drink, visit the restroom and stock up on more ammunition. You can therefore decide on your budget and send your child out to each game with a set number of paintballs based on your budget.
The 300 and 500 paintball packages are the two most popular options selected by parents for children's parties, however it is recommended that children attending birthday paintball parties be advised to bring a bit of pocket money along if they wish to buy extra ammo over-and-above that provided for in the package. Extra paintballs can be purchased at any time during the day.
Paintball Event Itinerary:
| | |
| --- | --- |
| 09.15 | Arrival |
| 09.15 – 10.00 | Check-in, issue of kit, getting dressed, loading ammo, teams organised |
| 10.00 – 10.15 | Safety speech, practice on target range |
| 10.15 – 13.00 | Games 1 & 2        Zombies' Crypt |
| | Games 3 & 4        Tomb Raider |
| | Games 5 & 6        Castle Wallenberg |
| 13.00 – 13.30 | Lunch break, birthday cake (BYO) |
| 13.30 – 15.15 | Games 7 & 8        Vietcong Village |
| | Games 9 & 10      London Apocalypse |
| | Games 11 & 12    Black Hawk Down |
| 15:15 – 15:30 | Results ceremony, prize giving |
| 15.30 – 16:00 | Bonus game (time permitting) |
| 16.00 – 16.30 | Departure |
Times are approximate and given for guidance only.  Game zones vary from centre to centre.
Please note:  Local and National paintball centres can be identified on the locations map when you select a particular location – this information is displayed within the centre summary beneath the address. Local paintball centres (not owned by Delta Force Paintball) are generally smaller and the minimum age, the nature of the equipment, game zones, catering arrangements and pricing structure will be different. For further information, please talk to one of our event co-ordinators and they will be able to provide you with further details. Don't worry though, if you wish to play at one of these centres, simply talk to one of our friendly Event Co-ordinators on 0203 869 9301 and they will guide you through it all. 90% of the UK's population is within 45 minutes drive of a Delta Force Paintball centre but we have JV agreements with good outlying Local paintball centres to help those of you who live too far away to visit a Delta Force Paintball centre.
To download child registration forms please CLICK HERE.
To make a booking please CLICK HERE.
To see frequently asked questions please CLICK HERE.
For paintball testimonials please CLICK HERE.
For downloads page where you can print posters and invitations please CLICK HERE.
(1) All prices quoted are for payments made in person (at a paintball centre). Payments made this way are final and cannot be altered or amended in any way – meaning that once paid you will not be able to change the date of your booking and if any member of your party is unable to attend on the date of your booking then that payment is forfeited.  Payments made over the phone to the advice centre attract a service fee of 5.99% – and mean that your booking can be changed to another date if you wish (subject to availability), that credits will be given in respect of any players failing to attend the event, and that these players may attend a game on a date of your choosing in the future without further payment (again, subject to availability).  Please also note that cash payments are free of transaction fees and can be tendered at any of Delta Force's 30 paintball centres in the UK, and in accordance with the Consumer Rights (Payments Surcharge) Regulations 2012 the fees for processing debit cards are 53p per transaction and for credit cards 2.32% – these fees reflect the company's actual costs in processing card transactions – for further details please see our FAQ page and our Legal page.