Get your warface on with Delta Force Paintballing Bolton!
For paintballing in Bolton, we recommend the following location:
Delta Force Paintball Manchester – located 5 minutes from the Trafford Centre, our brand new Manchester Paintball Centre features action-packed mission scenarios with movie-set quality props, state-of-the-art equipment and friendly staff to ensure you have the best paintball experience near Bolton!
As accessible as it is immersive, paintballing is a sport that encourages players to focus their minds and work towards completing certain objectives, all within a safe and exciting environment that players of all abilities can enjoy. With the best equipment in the industry at our disposal, not to mention the most experienced team of marshals and centre staff, Delta Force Paintballing Bolton are unrivalled in our quality and delivery of service – and the Manchester Paintball Centre epitomises these ideals.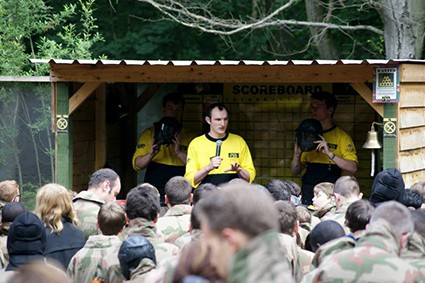 Fantastic game zones unlike any other with Delta Force Paintballing Bolton
Many visitors who get involved at the Manchester Paintball Centre comment on the uniqueness of the missions and scenarios – that is because these game zones are simply second-to-none. Hunt down the gold bullion in the western-themed Gold Rush with it's detailed movie-quality props, challenge the enemy with no fear and secure the exit route in London Apocalypse or use clever flanking techniques to surprise the enemy in Chemical Alley – variety and adrenaline-fuelled fun are what we are here to provide! Although the classic game zones make visitors come back for more, we always aim to keep up with the times to make your paintball experience that bit more awesome and continuously refurbish our centres, not to mention introduce new zones on a regular basis. p>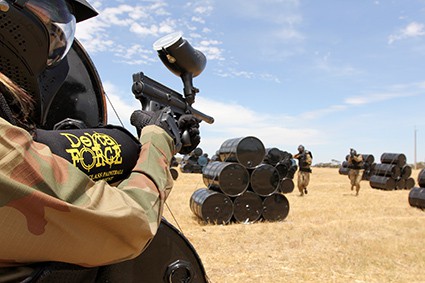 Get to grips with the finest equipment at Delta Force Manchester
The Manchester Paintball Centre battlefields can, more often than not, be an intense and hostile place – shouts from teammates and enemies fill the air, your range of vision may be temporarily restricted by smoke grenades, a Thunderflash might even go off nearby and totally distract you! Along with keeping your head, here at Delta Force we supply you with the right equipment to help you in your paintballing endeavours as standard. Semi-automatic markers that are unrivalled in accuracy and firepower, comfortable coveralls that don't hinder your crucial movements in the field, battle packs to help store that extra ammo – and much more! M16 gun upgrades are also available to hire, offering supreme reliability and look badass, whilst body armour can be hired for peace of mind, not to mention a range of pyrotechnics (provided you're 18+). Ultimately, you could boast an arsenal to rival that of any Marine…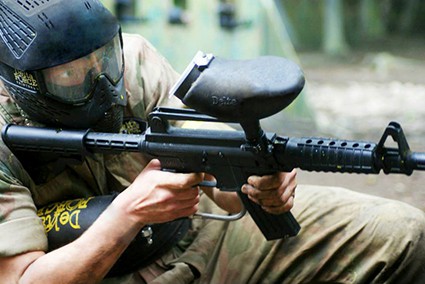 For your very own unique paintballing day out near Bolton, contact our friendly booking team today on 0203 869 9301