Paintballing Darlington – choose the world leader in Paintball
For paintballing in Darlington, we recommend the following locations:
Delta Force Paintball Newcastle – located just north of the city centre in Seaton Burn, players aged 10+ years can lock'n'load for the ultimate day of adventure as they conquer six exciting mission scenarios!
The Middlesbrough Paintball Centre – situated to the east of Darlington, the Middlesbrough centre caters to players aged 12+ years and offers full day paintball events on themed game zones.
With over twenty years of providing unforgettable paintball activities for player of all ages, Delta Force Paintball Darlington has a plethora of enthralling game zones and mission scenarios to get involved in. Two five-star centres, Delta Force Paintball Newcastle and the Middlesbrough Paintball Centre, combine high-quality facilities with the friendliest service around. At both venues the game zones have been expertly created and the best equipment sourced, meaning that no other paintball centres near Darlington come close to delivering high quality paintball adventures!
Newcastle Paintball Centre – an award-winning venue
Featuring picturesque woodland that is full of useful natural cover, the Newcastle Paintball Centre near Darlington has developed unrivalled game zones amongst these wild surroundings to leave players with total warfare capabilities at their disposable. Whatever the occasion, from a raucous birthday party for the youngsters or a serious corporate team-building exercise, the Newcastle Paintball Centre can help facilitate memorable epic action throughout the year. Revel in the unforgettable acts of bravery and embarrassing mishaps as you take to our sprawling game zones, each one promising even better paintballing battles! Will you be able to successfully transport a severed zombie head (not as gross as you think) to the enemy encampment? How about taking out a heavily guarded MVP in the iconic London Apocalypse?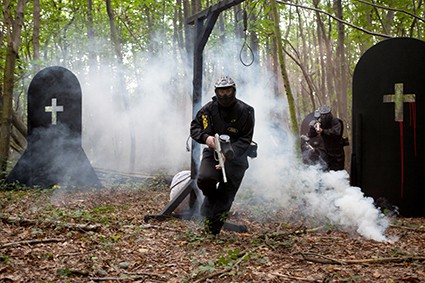 Tactical game zones and awesome equipment with Delta Force Paintball Darlington
With the latest semi-automatic paintball guns that look the business and handily fire at seven rounds-a-second, getting accurate and finding your range won't take long and neither will finding your unfortunate targets. The Middlesbrough Paintball Centre features six fantastic battlefields, all with their own characteristics and props that really make them stand out, everything from a Radio Tower mission to the classic fast-paced Speedball shootout. Youngsters will love them as much as the adults, but it is up to you how you decide to play them; just make sure to eliminate the enemy before they get to you first!
Visiting one of our centres gives players a chance to act out epic shoot-outs and real FPS scenarios: don't you think it's your turn? Call today on 0203 869 9301