Top South London paintballing centres
For paintballing in South London, we recommend the following locations:
Delta Force Paintball South London – situated on the outskirts of Crawley and just off the M23 motorway, this is a popular paintball centre for avid paintballers based in South London. Take up arms alongside friends and family and act out your favourite action hero on our movie-set quality game zones.
Delta Force Paintball South East London – with a selection of six action-packed missions available, the Orpington Paintball Centre will have you ducking and diving as you and your comrades enjoy a full day of paintballing!
Delta Force Paintball South West London – located in scenic woodland near Junction 10 of the M25, the Effingham Paintball Centre delivers the ultimate paintballing experience in London. Will you survive the onslaught of ravaged zombies in Dawn of the Dead? There's only one way to find out!
Delta Force Paintball destinations south of London pack ultimate action and adventure into a day out paintballing. It could be your birthday, a stag or hen party, company team-building day or just a fun day out with a group of friends.
Whatever the occasion, make Delta Force Paintball your choice destination and let the UK's largest professional paintball provider deliver a top day out in South London. Paintball is the great equaliser. There's no point hiding away when you're in the middle of a game zone where paintballs and pyrotechnic explosions are raining all around you. Field tactics require nothing but top performance from the get-go.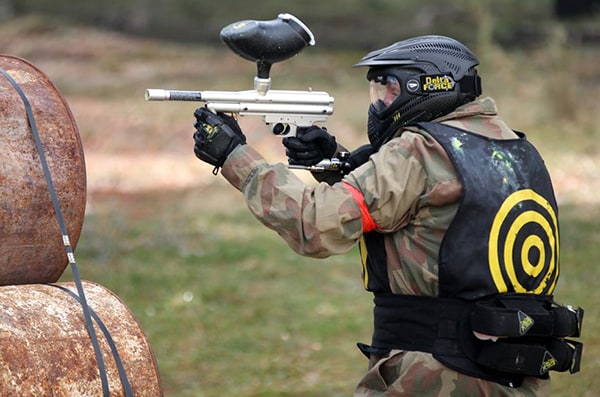 Delta Force South London paintball centres, conceptualised and erected by an army of professional builders, they combine spectacularly realistic themes with challenging combat scenarios. Expert marshalling staff kit teams out with the latest paintball guns, safety gear and a mission brief, after that there's no turning back.
South London paintball
South London paintball groups take a trip on the wild side executing a  tactical assault on Castle Wallenberg occupied by the WWII high command. Competing teams dodge sniper fire, charge through smoke grenade clouds and battle for victory against all the odds.
Six action-packed game zones surround the scenic South London Paintball base camp where groups have lunch together, relax, talk tactics and plan the angle of attack for the next mission! Take a few great photos in your combat gear against the backdrop of Delta Force Paintball fortresses, armoured tanks, themed battle fields and British countryside.
The centre's Viet Cong Village game zone leads down an incredible Ho Chi Minh Trail route where vital huts holding essential supplies must be secured. With Delta Force Paintball, you don't just have to navigate around a few sandbags and tyres, there are tactical and strategic objectives, game zone themes that rival any computer game, and the exhilarating thrill of victory – standing right next to your friends and fellow comrades.
South East London paintball
The 1944 D-Day Landing game zone at South East London Paintball in Kent takes paintballers back to a time that shaped Britain's history. There's an actual beach to defend, and replica scaled-to-size landing craft, a strategic objective based on the historical scenario and of course, a lot of paintball fire to dodge if you are going to save the allies from destruction.
Five incredible game zones at  the South East London Paintball centre provide thrills and spills from the moment you arrive.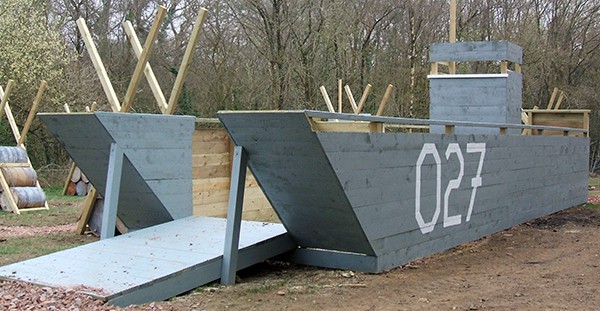 South West London Paintball
Delta Force Paintball South West London is conveniently located off the M25 in Effingham and is the ideal location for paintballers who want to escape reality for a fun day out alongside friends and family. At the Effingham Paintball Centre, all paintball game zones feature state-of-the-art props such as a large two-storey fortress complete with strategic sniper towers, seemingly abandonded village huts and London double-decker buses. Customers  aged 18+ years can add a further excitement to their day out by taking advantage of the paintball pyrotechnics on offer at the centre, including paint grenades, smoke grenades and MK5 thunderflashes! The South West London Paintball Centre also offers exclusive mini paintball events for 8-10 year olds. Our kids paintball parties are extremely popular and use smaller equipment and smaller paintballs resulting in a softer impact.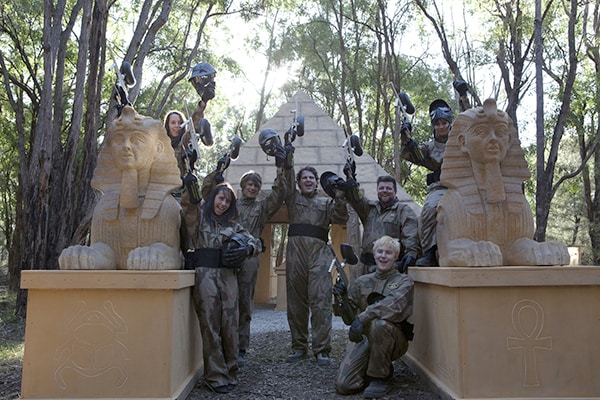 Step into a Delta Force Paintball centre and you will be transported to a world far away from the usual day to day trivialities you have to deal with. With our qualified marshals keeping an eye out for any infringements or breaches in safety rules – you can play hard but safe at our UKPBA 5-star award winning centres.
Our Delta Force Paintball South London centre team is on 0203 869 9301Book your ultimate paintball experience today!