Delta Force Paintball central London locations
If you're looking for an awesome day out in London, Delta Force Paintball can provide you with a fun-filled activity at any of our 12 London paintball centres. Suitable for players aged 8 years and up, it's the ideal outdoor activity that the whole family can participate in. With limited woodland areas available in the urban sprawl of London, there are a variety of paintball centres available near central London and scattered around the M25 for people looking for exciting game themes based in dense forested settings.
Delta Force Paintball: Pioneers of paintball games
Paintballing in London has grown in popularity over the years, with more and more people booking birthday parties, corporate events as well as stag and hen parties. Paintball started in the early 1980s, with one Delta Force Paintball centre in Surrey being the first to pioneer the sport.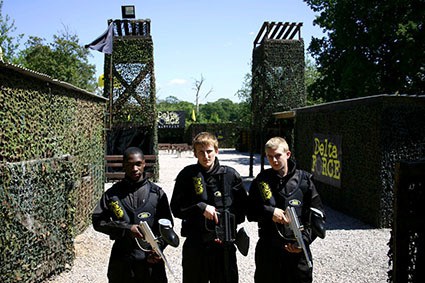 We now have two paintball centres southwest of London; both are located in Surrey off the A3 and Junction 10 of the M25. For those based in central London, another popular option is to visit the East London Paintball Centre which is easily accessible via the London underground. The two North London Paintball Centres are also located off the M25 at Junction 20. For those who are happy to travel slightly further afield, our paintball centres west of London are both located within easy reach of the M25, as is our two paintballing centres in Kent. Our network of centres means that you're sure to find an outdoor paintball centre no matter where you are in London.
Features and facilities at London Paintball centres
All Delta Force Paintball centres in central London feature world-class facilities, from our comfortable base camps with picnic tables, to exciting themed game zones such as Castle Wallenberg with a two-storey castle, London Apocalypse with full size double decker buses, as well as Viet Cong Village with thatched huts hidden in secluded woodland that await you and your comrades to capture and defend from the opposing team. During our full day events players are provided with protective equipment including full-head helmets, combat suits with padded neck collars and quality body armour. Our health and safety practices across our national paintball centres are recognised by the UKPBA – the governing body of the sport in the UK – and we have been awarded five-star ratings for the service we provide.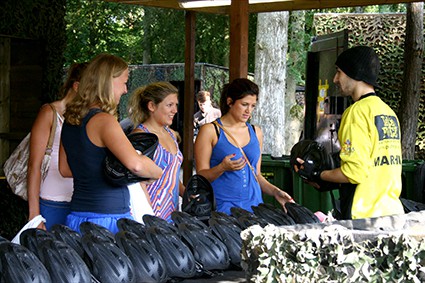 Paintball events are becoming increasingly popular as players of all ages can get involved – no previous experience is required. If you're looking for a unique experience or a fun outing with friends, book a day out paintballing in London at any Delta Force world class centre and you're guaranteed a memorable day out. See what paintball is all about at our top paintball central London venues. Contact our friendly team at Delta Force Paintball on 0203 869 9301 today!