Paintballing in Surrey
Adrenaline-packed fun with Delta Force Paintball
As a county that is rich with picturesque and lush backdrops, it seemed only natural for Surrey to be home to Delta Force Paintball's most atmospheric game zones and intense paintball action. With two of our prestigious centres – the Effingham Paintball Centre and our flagship paintball centre in Cobham – located less than a mile from each other, paintballing in Surrey doesn't get any better than this!
Paintballing with Delta Force Paintball
With extensive experience between both Surrey paintball centres, these popular centres have hosted many thousands of paintball enthusiasts over the years; from little Rambos and Ramboettes to fully-fledged professionals, not to mention a few A-List celebrities along the way…Talking of stars, we happen to have five of them accredited to us by the UKPBA, thanks to our award-winning facilities. We can just as easily host a paintballing birthday party for dozens of excitable kids as we can an excitable stag or hen-do group; although often the youngsters are much better behaved! Whatever the occasion, our staff and marshals at the Surrey Paintball Centre are fully qualified and on-hand to assist in making you, your friends or your family's day paintballing that bit more special.
We are also proud to be able to host mini-ball events Delta Force Paintball South West London. This specialty paintball event is aimed specifically at 8-10 year olds, with smaller equipment and ammunition being used, plus extra protection and marshalling. Totally safe and totally fun!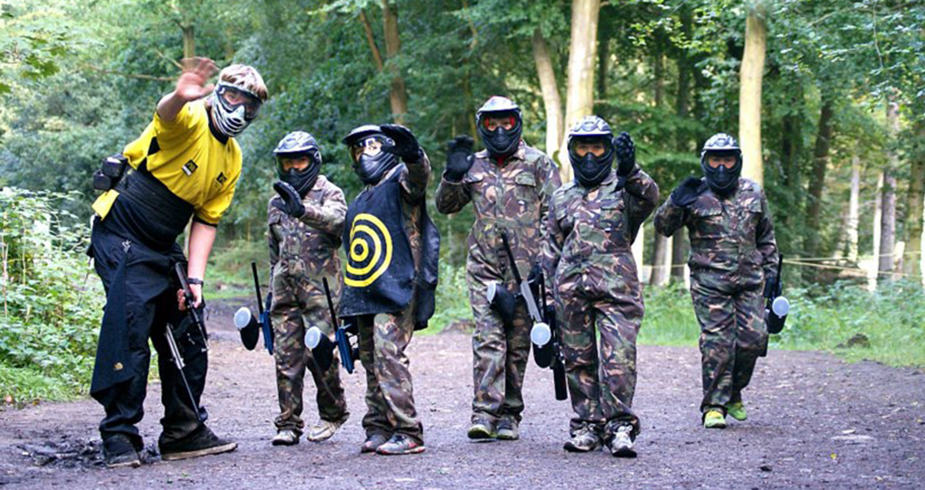 Game zones at our Surrey Paintball Centres
With sprawling woodland, thick undergrowth and plenty of natural cover, our Cobham and Effingham Paintball Centres are the perfect settings for epic paintball action. The game zones have been carefully designed to incorporate the surroundings and the movie-quality props that separate Delta Force Paintball from other providers. We aim to go all out with our scenarios, creating missions and game objectives that resemble scenes from a Call of Duty game!
Rescue the President in our London Apocalypse zone that features genuine double-decker buses; storm the two-story Castle Wallenberg and seize control of the imposing fortress; or quietly stalk your way through the atmospheric Viet Cong Village  – variety and adrenaline-fuelled fun are our forte! Although our classic game zones make visitors come back for more, we like to keep up with the times to make your paintball experience that bit more awesome by regularly updating our maps.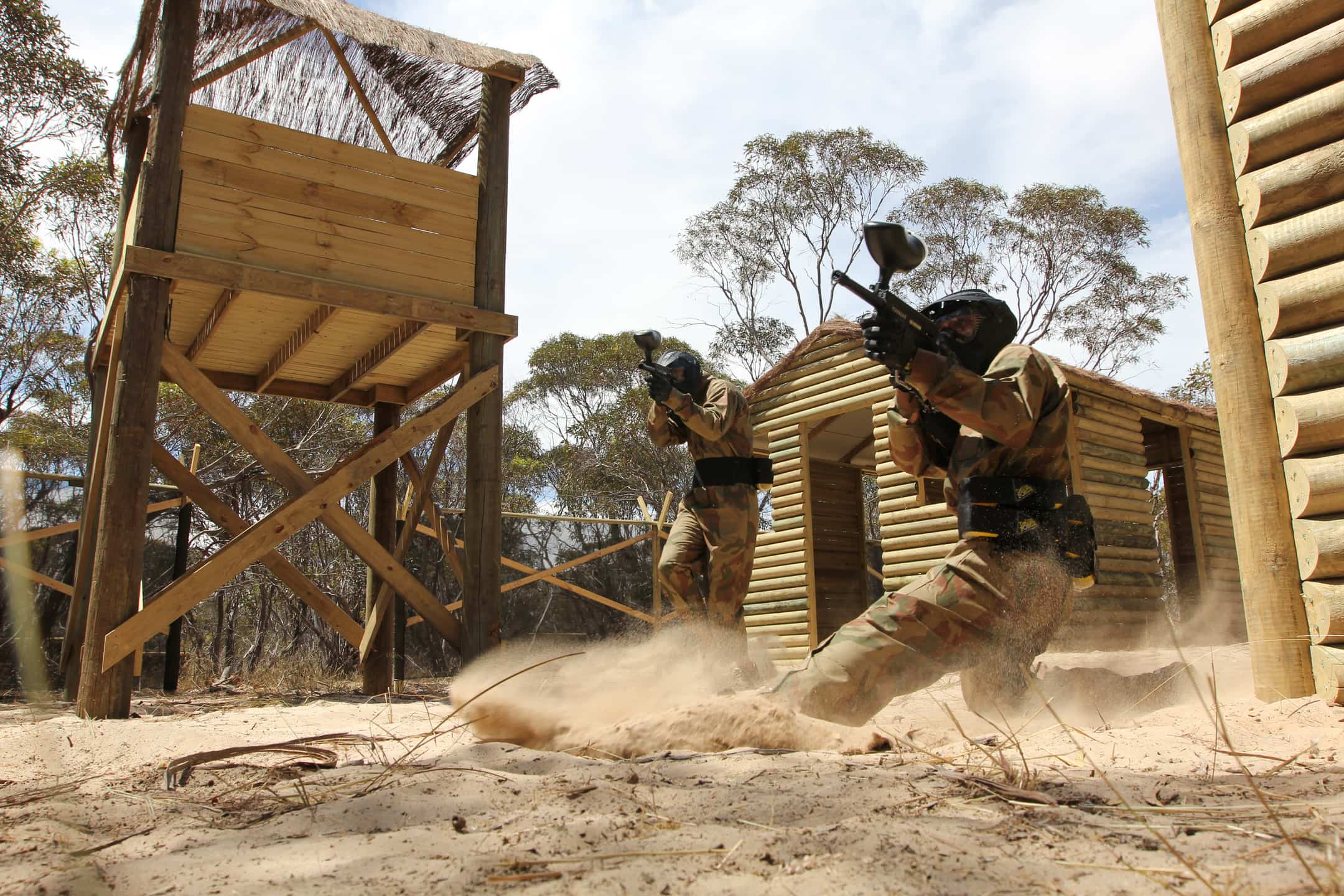 What's new at Delta Force Paintball Surrey…
For the Star Wars fans out there, swap those lightsabers for a semi-automatic paintball gun. With news that the latest addition to the franchise is to be filmed in the UK, we thought it necessary to add our bit of history to the epic saga; a Star Wars-themed paintball game zone featuring immense structures based on Imperial Army technology in the movie. An AT-AT Walker towers menacingly over the battlefield, with players able to climb inside and fire from tactically-placed windows, whilst a three storey tall Imperial Shuttle sits proudly in the middle of the zone. Our new Space Warz game zone at Delta Force Paintball Surrey really has to be seen to be believed!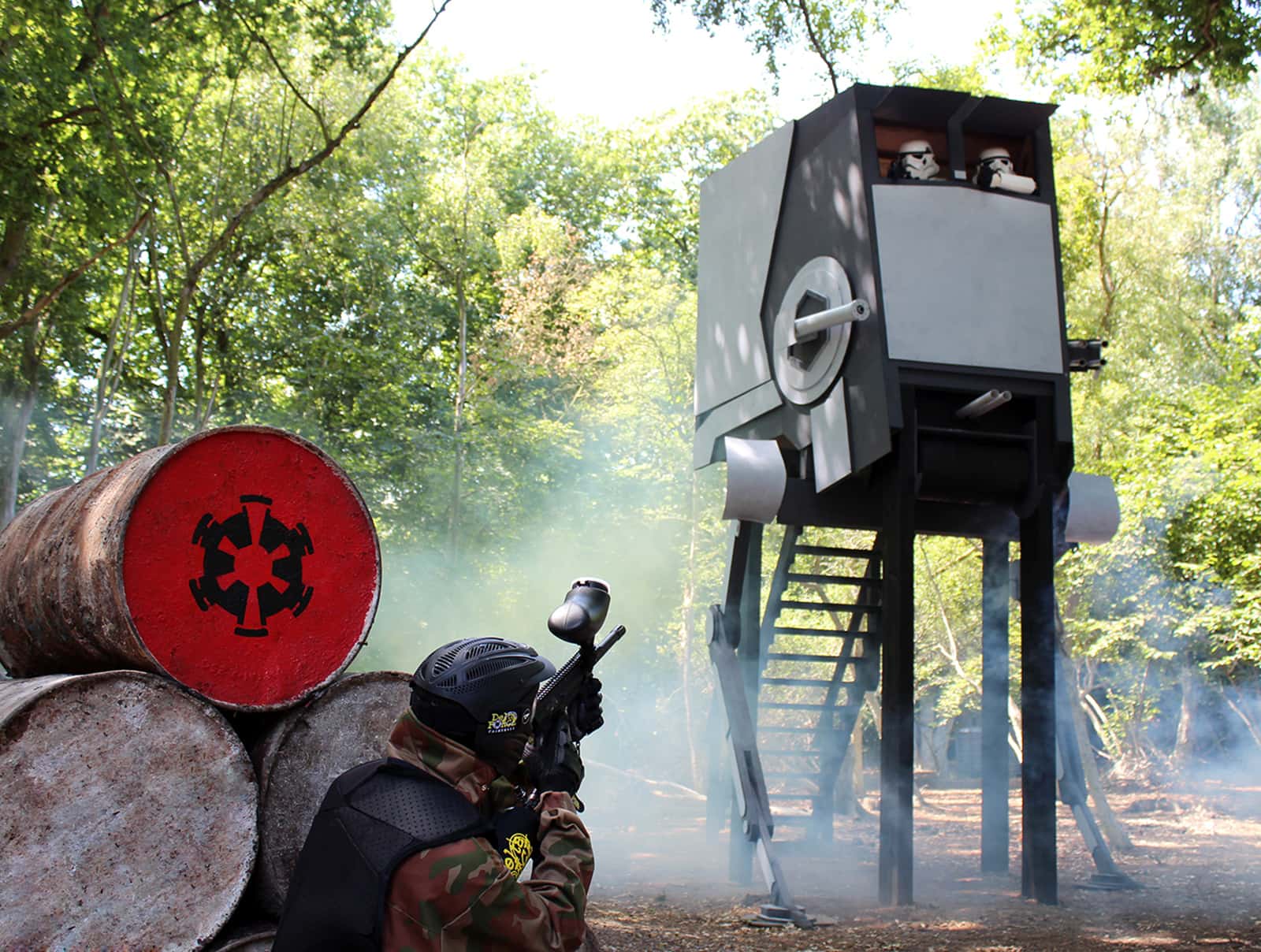 If you'd like to book an awesome paintball experience day in Surrey, call the booking team on 0203 869 9301and speak to one of our friendly event co-ordinators to find out more.