Paintballing Harrogate: an exciting day out!
For the ultimate paintballing event in Harrogate, we recommend the following location:
Delta Force Paintball Leeds – located in dense woodland off Junction 39 off the M1 in Wakefield, this is the ideal venue for paintball events for players aged 10+ years. Six exciting game zones feature extensive props to ensure your paintballing event is a hit, whether it's for a birthday party, stag or hen celebration or corporate team building event.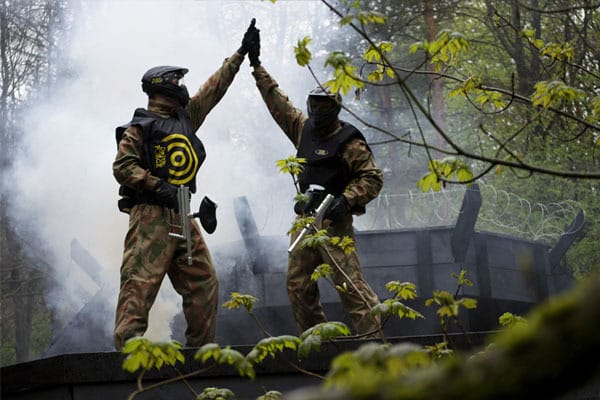 Since the discovery of the very first mineral spring back in 1571, Harrogate quickly gained its reputation for being a spa town. Believed to contain medicinal properties, the area was heavily promoted and favoured by the 19th Century English elite. In its early years, Harrogate also became home to the woollen Industry. Now the town functions more commercially, with conferences, exhibitions and trade fairs regularly taking place. The area is also famous for its flower shows, tea shops, Turkish baths and antique shops. But for those individuals who seek a bit more excitement and adventure in Harrogate, Delta Force Paintball offers North Yorkshire residents the opportunity for some awesome paintballing action at our Delta Force Paintball Leeds centre.
Paintballing in Harrogate: choose the number one paintball centre in Yorkshire!
Located near Wakefield and to the south of Leeds, Delta Force Paintball Leeds is set in gorgeous woodland and offers participants nine thrilling game zones. Tomb Raider is always a popular choice and with feature pieces like a massive pyramid and four big mummy statues (perfect for shielding yourself against the enemy!), you can see why! In addition to this, Delta Force Paintball in Leeds is home to an impressive 80 foot long Russian rocket which is fixed to its original Cold War era Soviet launch vehicle. Where else can you experience things like that? Other game zones include Chemical Alley, A Bridge Too Far, London Bus and the Haunted Graveyard. You can even use smoke grenades to enhance the dramatic effect of your game! Add to this our friendly and welcoming staff, your day spent paintballing near Harrogate will be a paintballing experience you'll never forget!
For those aged 8-10 years or groups of girls who prefer using paintballs with a softer-impact (without losing any of the game's excitement), Delta Force Paintball Leeds also offers mini paintball packages. For more information visit our mini paintball page.
Delta Force Paintball near Harrogate: loved by Leeds Rhinos Rugby Club
Our paintball centres are popular with players of all ages and walks of life, even the city's rugby players! Leeds Rhinos Rugby Club enjoyed an action-packed day out at our North Yorkshire Paintball centre last summer. Wearing full black 'ninja' suits and quality body-armour, the rugby boys definitely brought their 'A Game'; they kept up the fast-paced action from start to finish! After spending the day charging around in the woods, the players took some time to sign our autograph book and left some fantastic comments:
Kevin Sinfield (Captain): "Great day, thanks"
Kylie Leuluai: "Great stuff"
Matt Diskin: "Excellent"
Brent Webb: "Brilliant"
Rob Burrow: "Had a great time!"
Keith Senior: "Tougher than a game!"
Danni McGuire: "Good fun, really enjoyed it"
There's a big difference between playing rugby and a paintballing day near Harrogate at Delta Force Paintball Leeds, but after nine game zones and some high-adrenalin play, Keith Senior went on to comment in our guest book that "paintballing is tougher than a game!"
To book a day out at our Wakefield Paintball Centre in South Yorkshire or to get further information about paintballing near Harrogate, just call 0203 869 9301and speak to one of our friendly advisors.