Paintballing in Northampton
Delta Force Paintballing in Northampton – Three awesome centres to choose from!
For paintballing enthusiasts in Northampton, we recommend the following locations:
Delta Force Paintball Milton Keynes – located to the west of Milton Keynes near Hinton Airfield, the Banbury Paintball Centre entertains players aged 10+ years during their day-out on an array of themed game zones including an extensive stone bridge crossing with border patrol huts and a 40 tonne tank – the perfect setting to reveal your inner warrior!
Delta Force Paintball Coventry – for those seeking Call of Duty style paintball action, look no further! Take to our exciting paintball game zones as you emulate your favourite action hero armed with the latest semi-automatic paintball gun.
The Corby Paintball Centre – set in idyllic woodland approximately 15 minutes from Northampton, this venue caters to players aged 12+ years for all types of events, whether it be a family day-out or a stag and hen celebration.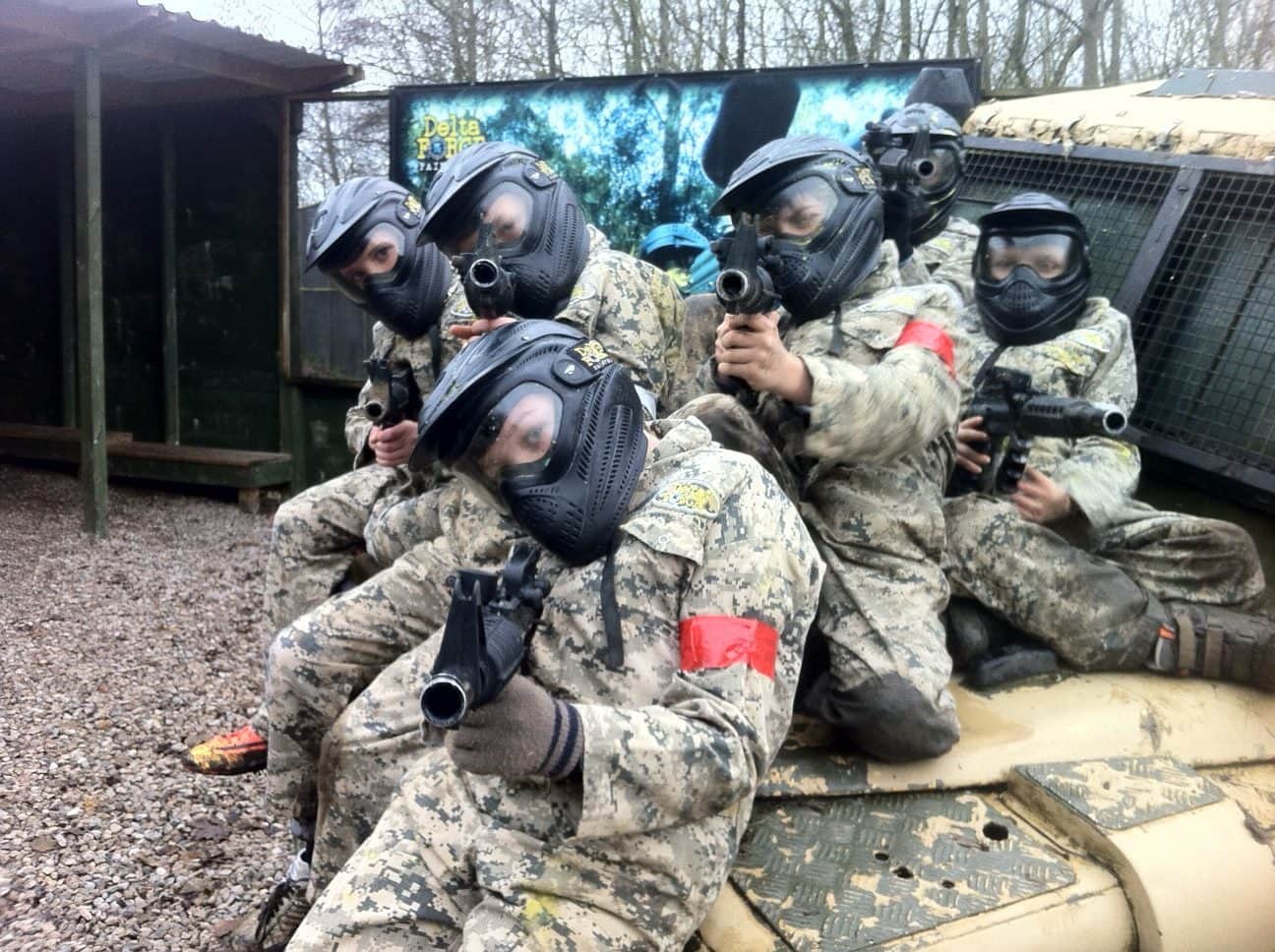 With a passion for paintballing that far exceeds our nearest competitors, Delta Force strives to bring together all the aspects that make the modern game so exhilarating. We're talking towering structures that have been built by professionals, equipment that has been sourced from industry-leading companies and a five-star service from marshals and staff who have become part of the wallpaper at our centres! Speaking of which, residents of Northampton have three such paintball centres to choose from – the Corby Paintball Centre, the Coventry Paintball Centre and the Milton Keynes Paintball Centre. You'll never have a tougher decision to make!
Visit the Coventry Paintball Centre for unforgettable battle arenas
Wherever you decide to go, thrilling paintball game play is guaranteed for all players. Before heading out to your first game zone, no doubt the butterflies in the stomach feeling will kick in, but is it nerves, excitement or both? What is certain is that you will experience many emotions at the Coventry Paintball Centre in our immersive game zones, one of which is the popular Desert Storm scenario.
The highly intense mission is based around the narrative that a foreign ambassador and his convoy of bodyguards find themselves in a world of trouble, after an IED disabled the convoy of vehicles. The suspected culprits are rebel dissidents of the state, who have holed themselves up in the buildings and alleyways that surround you. You and your teammates must make the way through the battlefield, making use of the tight surroundings and any equipment you had the foresight of bringing, all the while protecting the MVP from elimination, and reach the safety of the embassy. This is guaranteed to be tense to the end!
The Corby and Milton Keynes Paintball Centres provide limitless excitement
Issuing players with latest in paintballing technology and boasting the most immersive game zones in the country is standard practice with Delta Force Paintball. Both the Milton Keynes Paintball Centre and the Corby Paintball Centre near Northampton are the ideal venues for every occasion you could think of, from businesses and clients looking to treat their hardworking employees to some downtime or teambuilding exercises, to eager youngsters celebrating a friend's birthday! Paintballing encourages players to work together to overcome challenges and to think on their feet, with strategy playing a key role in the success of many missions – our modern and varied equipment will help to achieve that, along with the guidance of our knowledgeable marshals.
To organise your very own paintballing event with Delta Force Paintball Northampton, contact our friendly booking team today on 0203 869 9301.