Paintballing in Kent
Delta Force Paintball Kent – Play At Full-Throttle!
The closest Delta Force Paintball Centres to Kent can be found below:
Delta Force Paintball Kent – located in Westerham, this world class centre features seven exciting fields including the latest Gold Rush game zone. Set in the Wild West, this popular scenario comes complete with a mini village of themed shops including a bank, a saloon and wine barrels which provide strategic cover in the heat of the battle.
Delta Force Paintball South East London – situated in leafy woodland in Orpington, this family favourite venue has hosted its fair share of paintballing parties over the years. Test your sharp-shooting skills as you lead the attack on the two-storey Castle Wallenberg and eliminate the enemy one-by-one in The Haunted Graveyard.
Delta Force Paintball Tunbridge Wells – perfectly positioned just off the A21 on Dundale Road, this state-of-the-art paintball centre sits just four miles outside the historic town of Royal Tunbridge Wells. The centre is home to five Hollywood-inspired game zones, including Zombies' Crypt and Speedball Arena.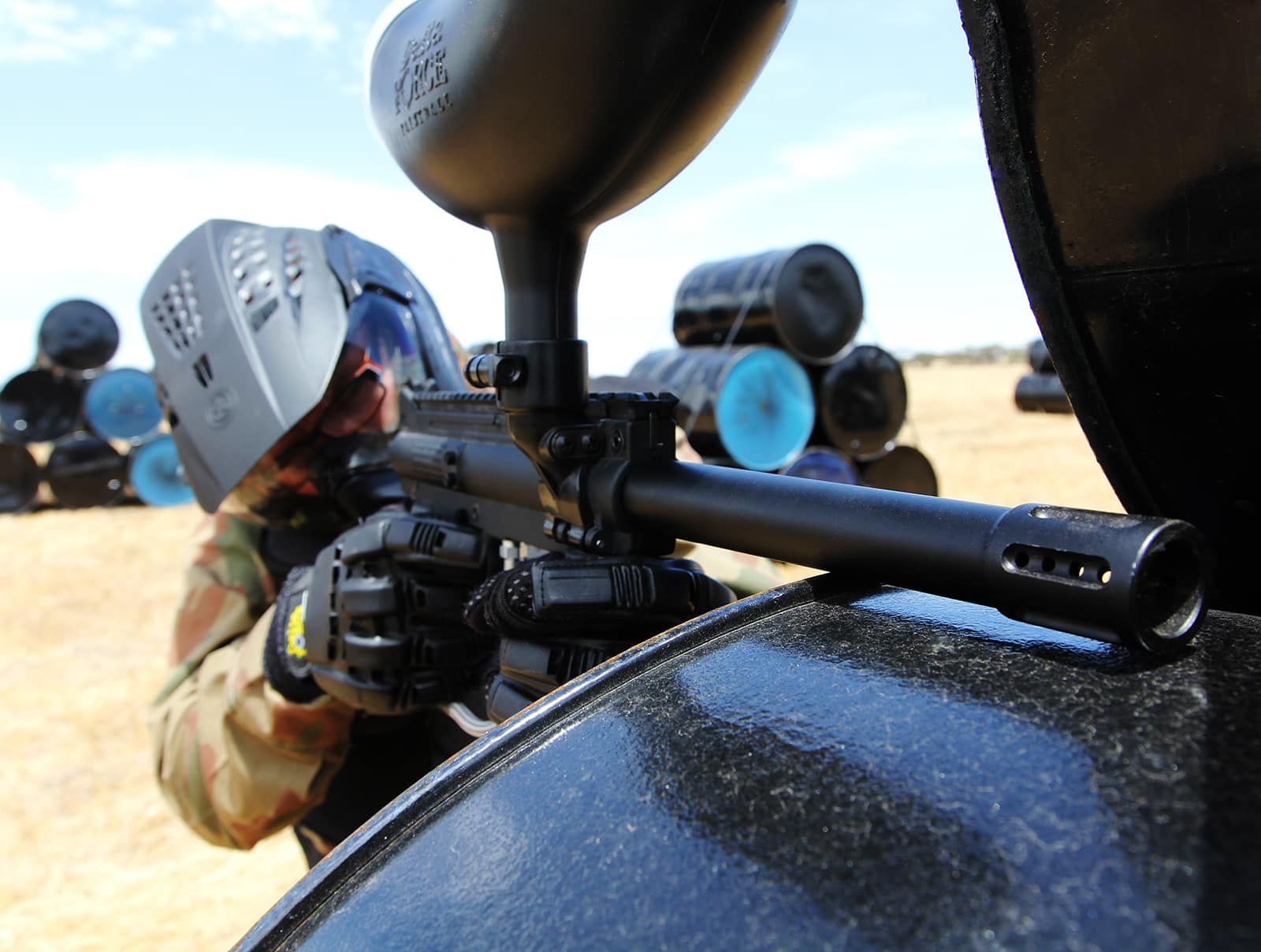 At any Delta Force UK Paintball centre you'll discover how to surprise your friends. Get a group organised to play paintball at one of two Kent Paintball Centres and wake-up to camaraderie you just can't get playing X-Box. Our paintball game zones challenge your skills and keeps the adrenalin pumping – at any point you may be shot or you may fire the winning shot to seal the game for your teammates! Teamwork, communication and co-operation is essential – it's not just a matter of who's got the best mods.
Paintball is the fastest-growing sporting phenomenon in the world. Did you know that the popular annihilation challenge game Speedball is being considered for Olympic Sport status? If you want to find out what all the fun is about, get behind the wheel of this global trend, and find a Delta Force Paintball centre for the ultimate adventure day out.
Paintball Kent – Release Your Inner Warrior!
The Delta Force Paintball Kent at Westerham attracts paintballers who understand that taking on paintballing with a group, without the option to press the pause button on a console, is a great leveller. The expert marshalling team at Delta Force Paintball Westerham are dedicated to pushing your team into high-octane dangerous game zone scenarios where it's you against the opposition – you and your Tippmann FT-12 paintball air gun firing 7 rounds per second at 300 fps.
Paintball maps based on Call of Duty combat scenarios leap out of the stunning forest setting as your team plans covert insurgencies, urban infiltrations and objective acquisitions playing live combat paintball battles in seven action packed game zones at the Kent Paintball Centre.
The London Apocalypse game zone challenges your paintball team to protect the American President on his tour of the UK. Paintball gun fire explodes atop two double-decker London buses as teams vie for the defensive position needed to sniper-fire from the top deck. The opposition won't stop attacking the VIP target, and you'll have to engage rapid fire and smoke bombs using London's black cabs, Underground signs and an authentic K6 Red Phonebox to your advantage.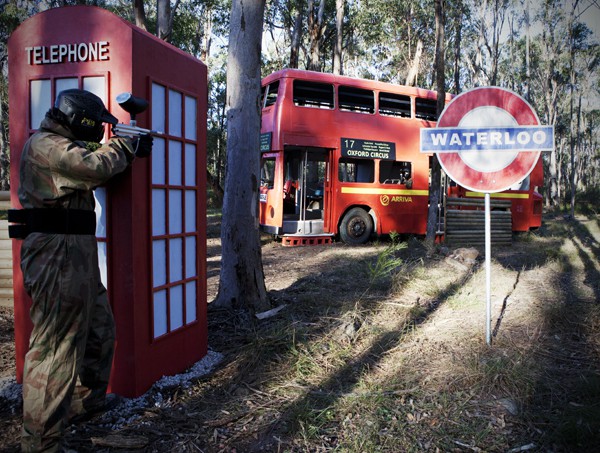 Transport the team back in time in the Gold Rush game zone where the Wild West themed town needs defence from those pesky outlaws. Pelt those greedy rogues with your high calibre paintball weaponry and make sure the gold stays under lock and key within the bank vault.
A day of intense paintballing at Delta Force Paintball Kent requires you to bring one thing only – a high-octane mindset. Our Westerham Paintball Centre also caters for younger paintballers aged 8 to 10 by providing specialist Mini Paintball equipment in our new style of games for younger participants. This allows junior teams wanting to play paintball the opportunity to get involved with the safety of lower impact paintball guns.
Go Commando at Delta Force Paintball in South East London
Just off Junction 4 of the M25 lies the second Delta Force South East London paintball centre in Kent. The Orpington location creates a military themed atmosphere with enlistment required at basecamp under the command-post-size mess-tent. Get camouflaged with Delta Force Paintball equipment including protective headgear, body armour, padded combat suits and your Inferno Mark II smooth-silver paintball gun.
Five action-packed game zones include the spectacular D-Day Landing mission, themed with three bridges to secure, deep trenches to dive in and WWII pill boxes to fire from. Paintball players move with lightning-quick speed to gain ground on the beaches of Normandy. Take up position in tanks and unload a pay-day volley of paintball gun fire on the invaders to secure battlefield glory.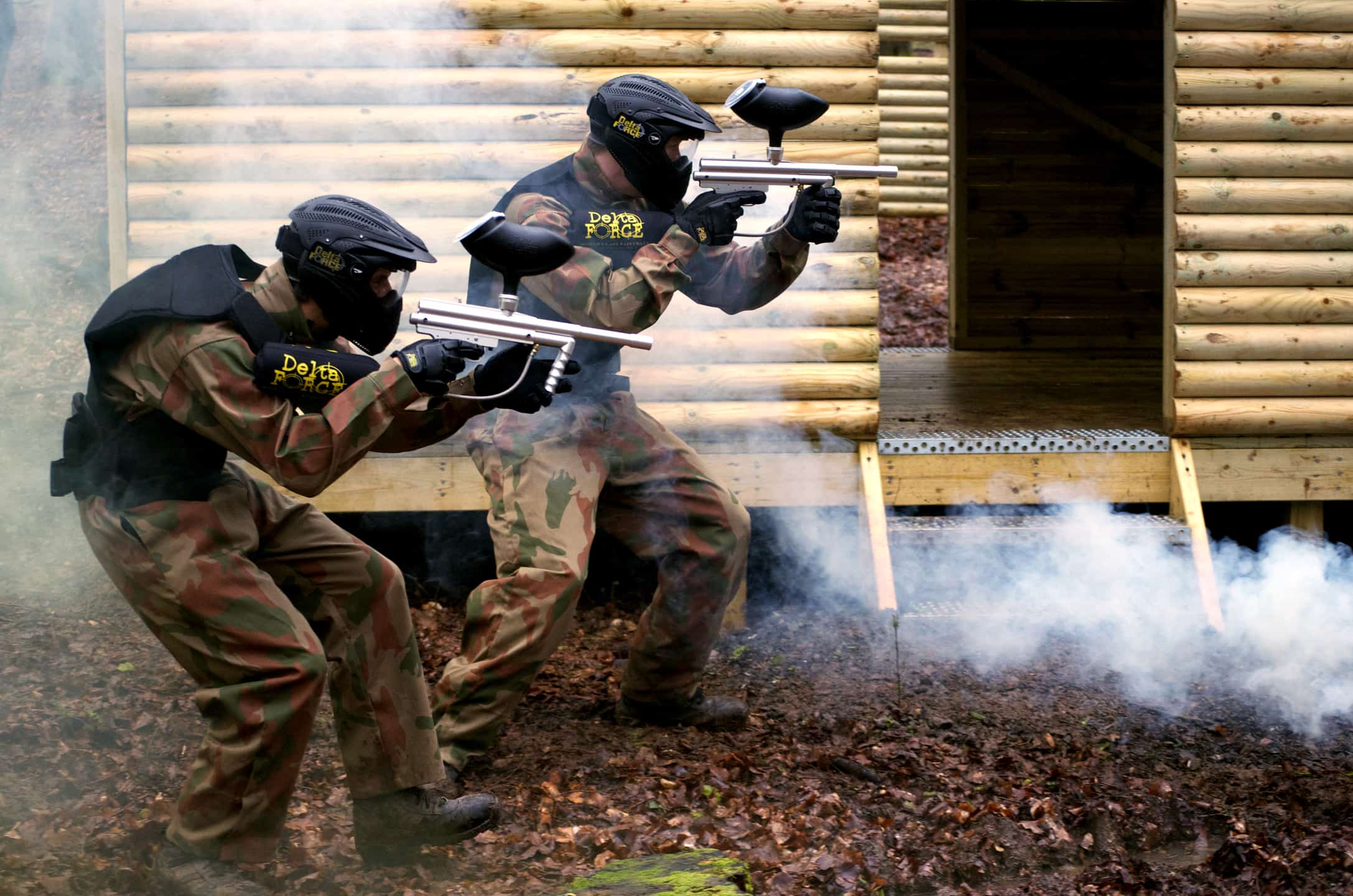 Get a group into gear right now and call the Delta Force Paintball team on 0203 869 9301 to book the ultimate adventure day at Delta Force Paintball.
Looking for another outdoor activity in Kent?
Have you been searching for an alternative, adrenaline-inducing outdoor activity in the Kent countryside? Why not try off roading? Our good friends over at Action Trax offer safe and legal enduro practice events for riders of all levels. They have paramedics, static marshals and rider marshals at all events to ensure the smoothest running day possible for all riders.