Paintballing in Hertfordshire
Paintballing Hertfordshire with Delta Force
For those looking to play paintball in North London, Buckinghamshire or paintball in Hertfordshire, the Delta Force Paintball centre at Hemel Hempstead is your most convenient location. Situated in the picturesque Hertfordshire Hills within a disused WW2 American Airforce base, the centre offers unlimited car parking on the Heathrow-sized main runway and uses key features of the remaining infrastructure in the base camp and seven different paintball game zones.
The Hemel Hempstead paintball centre offers a number of fun scenarios for players of all abilities, including: Black Hawk Down featuring a crashed Black Hawk helicopter (which was even used in an episode of EastEnders!), Castle Wallenberg with a huge two-storey fortress, Chemical Alley (a fast and furious game where you have to think tactically), Mad Murphy's Jungle Attack including a guerrilla base, the Haunted Graveyard with tombstones and full size coffins, and the Viet Cong Village with a two storey sniper tower that's ideal for picking off the enemies as they make their tactical approach!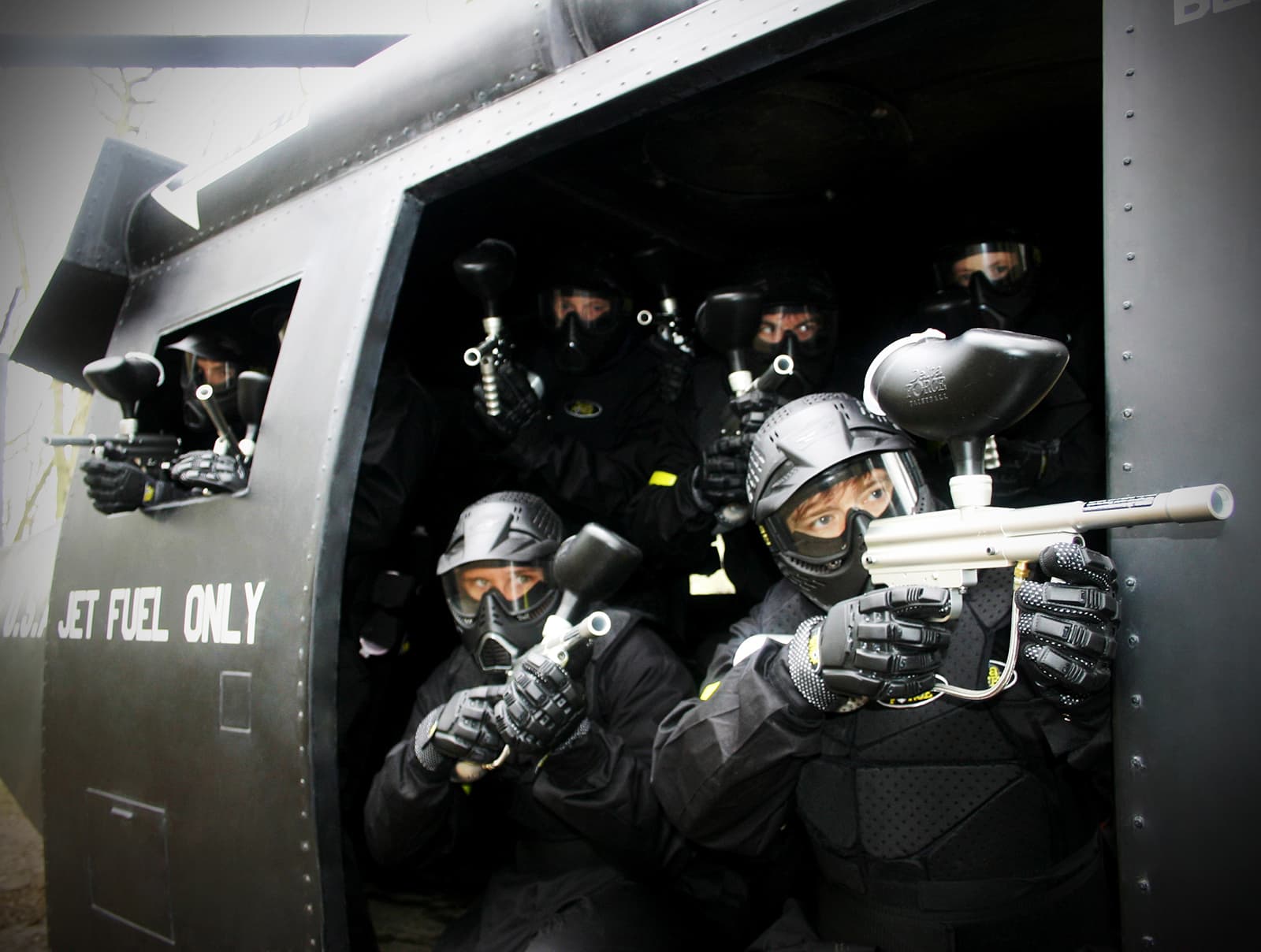 Delta Force Paintball Hertfordshire: Eastenders actors visit Hemel Hempstead!
One of the nation's favourite soap operas, Eastenders, recently filmed an episode at Delta Force Paintball in Hemel Hempstead. The leading paintball centre in Hertfordshire was selected because of the iconic Black Hawk Down game zone which features a replica Black Hawk helicopter.
The EastEnders storyline was based around a surprise birthday party for actress Tameka Empson, known as Kim Fox in  the series. With a face full of makeup and carefully preened hair, it looked as though paintballing may have been a poor choice for Kim. But once the game started, Kim was bitten by the paintball bug and soon turned into an action warrior! Let us tell you, this is not uncommon! There were a few creative allowances, for example the goggle lift, but be rest assured, all scenes were filmed in a secure environment with controls in place; none of the actors were at risk.
Hear from the crew themselves about the fun they had at Delta Force, Hemel Hempstead.
Delta Force Paintball Hertfordshire: Watford centre
Also based in the stunning Hertfordshire countryside and only 5 minutes from Hemel Hempstead town centre, is the paintball centre in Hertfordshire in Kings Langley. Featuring five new scenarios including A Bridge Too Far where allied forces have deployed a large number of paratroopers into the Netherlands. Your mission is to fight your way through the opposition's heavy defence, take hold of and control the bridges that cross the river Maas and detain them there until backup arrives. Think you've got what it takes? Come and visit to prove your marksmanship skills!
For more information about Paintball Hertfordshire or to book a day of paintballing with us, contact us on 0203 869 9301. and one of our advisors will be happy to take your call.