Paintballing in Glasgow
Fun paintball games at Delta Force Paintball West Glasgow
For those looking for a world class paintballing venue in Glasgow, Delta Force Paintball West Glasgow offers fantastic paintball deals and an unforgettable day out paintballing. With seven action-packed game zones to entertain your group, Delta Force Paintball West Glasgow takes you to another level. Catering to players aged 10 years and up, the West Glasgow paintball centre is the ideal location for your next scottish adventure!
Paintball West Glasgow Delta Force is on a mission
Starting out in 1989 with the mission to make paintballing more professional, more fun, safer and better value, Delta Force Paintball is now the world's largest provider of paintball games. Delta Force constantly invents in creating challenging game scenarios and draws inspiration for paintball maps from X-Box and PS3 games.
The "call of duty" as far as Delta Force is concerned, is to provide the ultimate paintballing experience for each and every customer. From the first shot fired games of paintball involve complex combat scenarios drawing teams into battle where the goal is to win at all costs!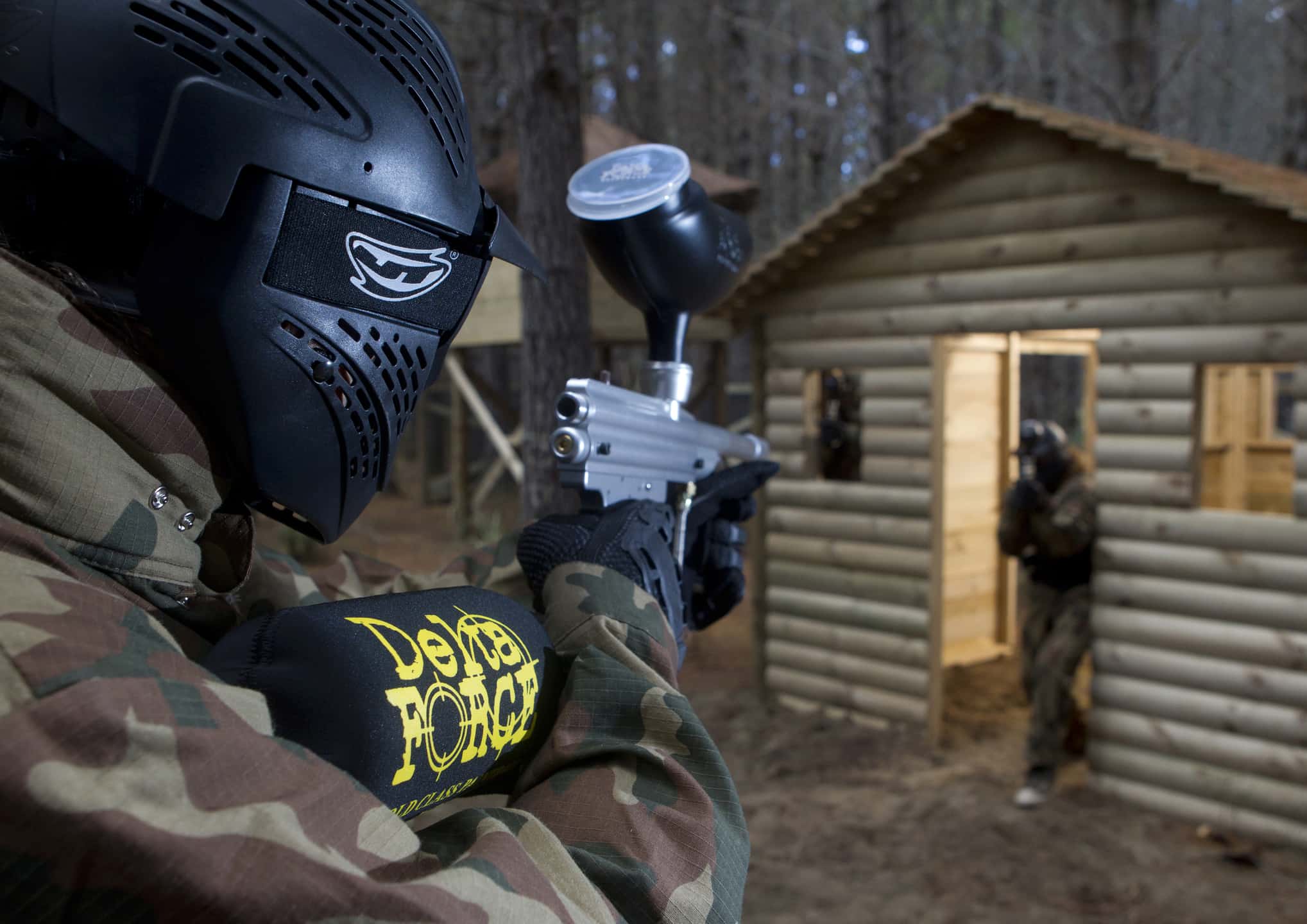 Let off steam paintballing at Delta Force Paintball West Glasgow
Delta Force employs an expert army of professional builders dedicated to transporting players to another universe during their paintballing day out. Recently refurbished, the West Glasgow paintball centre combines natural forest terrain with movie-set construction with sets such as the Tomb Raider paintball game zone, where a 30 ft high pyramid and two enormous sphinxes make a great video opportunity for those with the wit of Indiana Jones and the cunning of Lara Croft.
Your group could include a birthday, stag or hen, or company teambuilding day out and you'll be glad you are wearing our protective paintballing equipment when you go head-to-head with opposition teams in the Afghan Fort game zone. Watch out for players who upgrade from the Inferno Mark II paintball gun to the replica M16 machine gun for the day. In the Afghan Command Post guard towers, sniper-fire is greatly enhanced by rapid fire and super-sight capability. Remember to duck for cover if attacking this stronghold!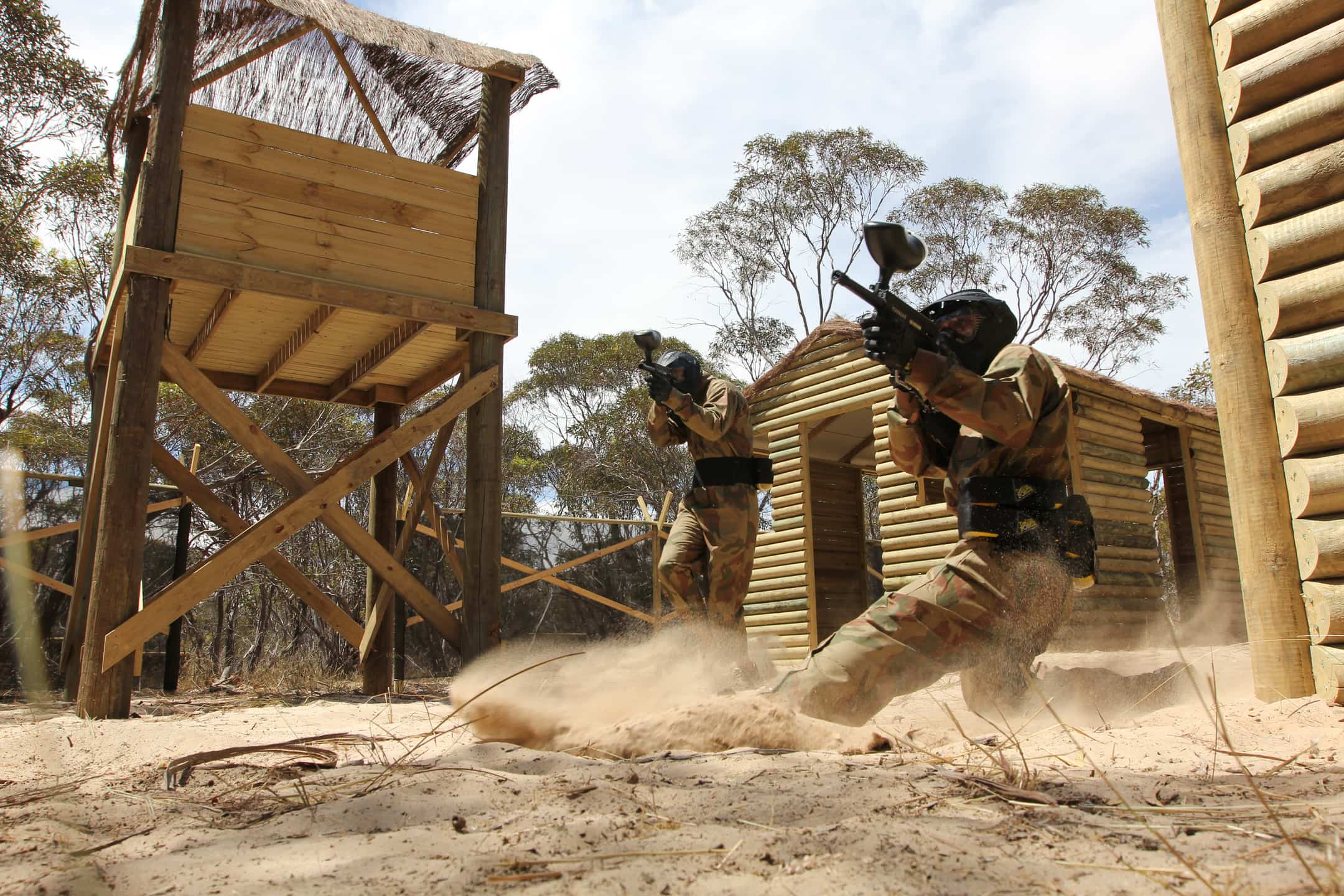 Military themed Game Zones thrill from start to finish
Paintball games with a military theme will test your group to the limit. At Delta Force paintball centres, points are scored for wins and each side gets to play both attack and opposition scenarios in each game zone. War is not always 'politically correct' or 'fair', and at Delta Force Paintball West Glasgow we take pride in making live paintball games' situations realistic. After all, you can fiddle with the X-Box settings and up your mods. Carrying a paintball gun in a live combat situation is a more accurate leveller and measure of your 'mettle'.
At Delta Force Paintball in West Glasgow you take courage under fire as you stalk and talk tactics to secure Viet Cong Village, and gain as many buildings as possible in order to gain the Ho Chi Minh supply route for your side. Change your team strategy quick for the London Bus game zone, where two double-decker buses provide sniper advantage for those trying to thwart the target safety of the designated VIP.
There's no rest for the wicked in The Haunted Graveyard as you'll be up against fighting zombies that re-spawn every few minutes. Relentless fire power is needed to keep the minions at bay and if you are guarding their commanders' heads, be prepared to sniper-fire at will atop the two-storey church.
Call our friendly Delta Force booking team now on 0203 869 9301to book a memorable experience at our fantastic West Glasgow paintball centre today.