FEATURE ARTICLE
Delta force paintball edinburgh rated excellent scottish tourist board
Delta Force Paintball Edinburgh sits on the western borders of Edinburgh in the gorgeous Bathgate Hills. The centre overlooks West Lothian and nearby areas; a beautiful setting for a fantastic day of paintballing!
Our Edinburgh paintball centre was also visited by the Scottish Tourist Board who went on to award our standard of customer care and the range of facilities at the centre with 4 stars (rating: excellent).
About the Scottish Tourist Board: They work in conjunction with private businesses, public organisations and local authorities to make sure that tourists have the best experience that Scotland has to offer. It's also their job to make sure that the country makes the most out of its fantastic tourist attractions and acknowledges its potential. This is achieved by promoting Scotland all over the world to try and entice visitors, offering information and inspiration to prospective or returning visitors and providing quality assurance to tourists as well as advice to industry partners in order to help the industry go above and beyond visitor's expectations.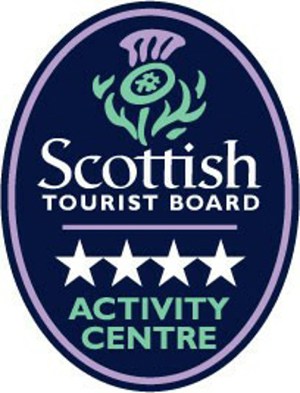 The team from the Scottish Tourist Board were so impressed with Delta Force Paintball Edinburgh, from its first class facilities with proper flushing WC's on mains water, open air and covered picnic areas with plenty of seating at base camp to a great range of film-like game zones for guests to enjoy, including: 'Afghan Fort' where your unit has been ordered to penetrate the opposition's defence system and take them out with artificial explosives, 'A Bridge Too Far' where you and your team need to work your way through the Dutch countryside and take control of the bridges that cross over the river, 'The Haunted Graveyard' containing an old church and lots of eerie looking tombstones, 'Mad Murphy's Jungle Attack' where your mission is to rescue a downed allied airman who's trapped somewhere in the rainforest and 'Viet Cong Village' where you need to take control of every buildin. The centre also has a range of paintball pyrotechnics for players to use, from smoke and paint grenades to MK5 Thunderflashes.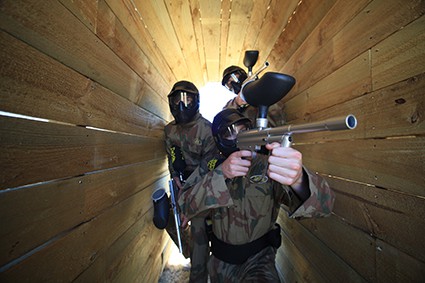 For more information about Delta Force Paintball Edinburgh or to book a day of paintballing with us, call 0844 477 5115 and speak to one of our friendly members of staff.