FEATURE ARTICLE
Paintballers, It's cold outside
Paintball is a great excuse to get outdoors and active in the chilly winter months, when it can be hard to find your own motivation to otherwise leave the sofa. Especially in the current climate, with so few things operating as normal, paintball remains a Covid-compliant activity that continues all year round. With this in mind, checking out Delta Force's top tips for maximising your paintball adventure this winter.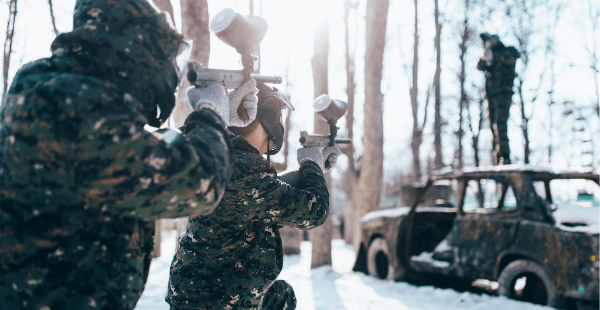 Thin over thick.

The temptation might be to wrap yourself in as many thick layers as possible, but this will weigh you down and overheat you! Lots of thin layers instead will keep you insulated, while our specialist body armour and overalls will keep you padded and protected.
Paintball gloves are also available for purchase at our basecamps and, speaking of basecamp, hats and balaclavas are a good idea to keep you warm between games!
In fact, having a change of shoes or clothes onhand for the wettest days may make for a more comfortable journey home.

The shoes make the player.

Water-resistant boots are a must! Keeping your feet dry is critical, meaning canvas shoes or anything like that are a no-go. Protect those toes!

Preparation.

Check your route in advance to ensure a prompt arrival and avoid any delays to starting your day with us!

Pre-book your paintballs.

Book in advance to secure the best deal available and get your adventure off to the best possible start.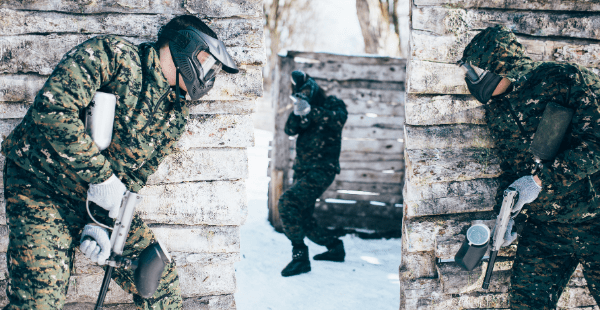 For our part, during the winter months we use paintballs specially formulated to combat freezing, keeping your whole experience as weather-proof as possible. See you in the field!