FEATURE ARTICLE
Delta Force Paintball Derbyshire: The Fantastic 5!
If you're trawling the web for 'paintball Derbyshire' then you've come to the right place! Delta Force Paintball offers paintball fans living in Derbyshire, 5 nearby centres to choose from! We have paintball centres based in Manchester, Birmingham, Staffordshire, Nottingham and Leeds!
Located just off the M6 motorway at Junction 17, sits our Manchester paintball centre. This venue has gained a fantastic reputation for being one of the top paintball centres in the country, offering state-of-the-art game zones with Hollywood-style props! The centre also features an authentic WWII Bofors Anti-Aircraft gun! Pretty cool, eh?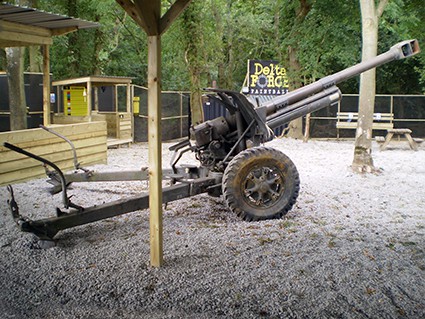 Surrounded by 64 acres of gorgeous woodland and just off the M42 motorway at Junction 4, lies our Birmingham Paintball Centre. This venue is the largest in the Midlands, boasting 10 movie-themed game zones, all decked out with film-like props. These include: Pablo Escobar's Air Strip, A Bridge Too Far, London Bus, Afghan Fort, Chemical Alley, Mad Murphy's Jungle Attack, Viet Cong Village, The Haunted Graveyard and Tom Raider.
Our Staffordshire Paintball Centre, which is easily accessible from nearby Derbyshire, offers customers attractive-looking battlefields to play on, and an exciting range of paintball game zones to experience. This venue is one of our smallest, but that doesn't mean it doesn't have a lot to offer! You'll also receive a personal touch, which can't always be found at other paintball centres. And with its fantastic range of paintball pyrotechnics on offer, (including paint and smoke grenades and MK5 Thunderflashes) Delta Force Paintball Staffordshire, makes a fine choice!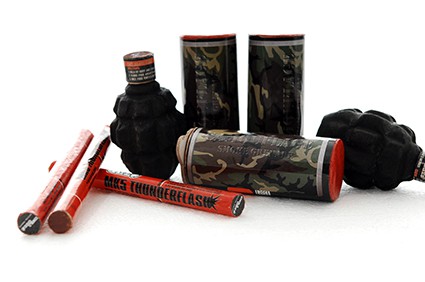 Or, if you're looking for a more direct route, take a look at our Nottingham Paintball Centre. Sitting literally meters from junction 24 on the M1 motorway with its own private access, this paintball centre is definitely the easiest to get to! It also provides a good selection of game zones, such as Viet Cong Village, Afghan Fort, The Haunted Graveyard, Castle Wallenberg, Tomb Raider and Mad Murphy's Jungle Attack.
Another option is our Leeds Paintball Centre, providing paintball fanatics with the choice of 9 big game zones, all with statement pieces, like the 80-foot-long Russian Rocket (still attached to its original Soviet launch vehicle!). The venue also benefits from top-class basecamp facilities, so our customers are comfortable throughout their stay.
To find out more about Delta Force Paintball Derbyshire or to organise a day of paintball with us, call 0844 477 5115*