FEATURE ARTICLE
Delta Force Paintball Bristol:North or South?
Looking to play paintball in the West County? Then make sure you check out Delta Force Paintball Bristol, offering paintball fans a centre in both the North and South of the city, just 25 miles apart.
The North Bristol Paintball Centre can be found just off junction 14 on the M25 motorway in leafy Thornbury. The centre features six movie-quality paintball game zones for customers to enjoy, consisting of: A Bridge Too Far (which includes wooden bridges for players to dart over), Chemical Alley (a rapid game of speedball which uses attack and defend tactics), Viet Cong Village (set in a seemingly abandoned Vietnamese village), Zombies' Crypt (where lots of dangerous zombies lurk) and WWII Bunker Buster (which involves having to mount an attack on the Japanese opposition on the island of Iwo Jima). With so much variety, there's a game scenario here to suit everyone's tastes!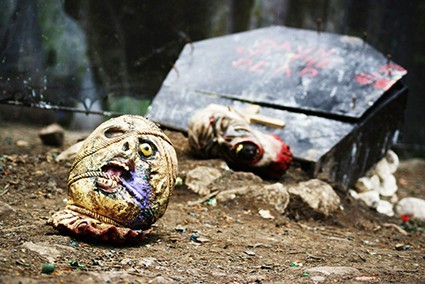 But, if the South is more convenient, our South Bristol Paintball Centre is just as impressive! It features game zones such as D-Day Landing (which includes military vehicles, bridges and bunkers), Tomb Raider (home to a huge stone pyramid surrounded by tunnels and statues), Sheriff's Castle (which involves having to seize control of a large two-storey fortress). The South Bristol Paintball Centre is also conveniently placed, just 20 minutes from the city centre.
Delta Force Paintball Bristol provides guests with quality facilities at basecamp, such as: proper flushing toilets on mains water and large picnic areas with lots of seating. We also offer customers secure lockers for storing their valuables (for a tiny fee). For lunch, players can also opt for a hot pizza option, freshly prepared by a local offsite catering company. All you need to do is let us know in advance, either at the time of booking or on the morning of your event (before 11am). And, if you're celebrating a special occasion, we can even arrange for birthday cake (BYO) to be served, making your day feel really special.
If you'd like to book your paintball event with Delta Force Paintball Bristol, or to request additional information, call the bookings team on 0844 477 5115*