FEATURE ARTICLE
Paintball south west london perfect day out londoners
For a fun and exciting daytime activity, try paintball in South West London!
The nearest Delta Force Paintball centres for customers living in South West London are 'Deepwood' and 'Homewood'. Both located in Effingham and close to Guildford in Surrey, our two centres are based only a mile apart! It's also really easy to get to - just minutes away from junction 10 on the M25.
Deepwood, our first paintball centre near Guildford, offers seven thrilling game zones, each with a different scenario to act out. You might be fighting against a hostile group of Viet Cong villagers living in Vietnam or you may be ordered to attack and destroy the enemy base in Afghan Fort! Other game zones include: 'Chemical Alley', 'Mad Murphy's Jungle Attack', 'Castle Wallenberg', 'London Bus' and 'A Bridge Too Far'. But whatever game you play with us, a variety of tactics and strategy techniques will need to be used.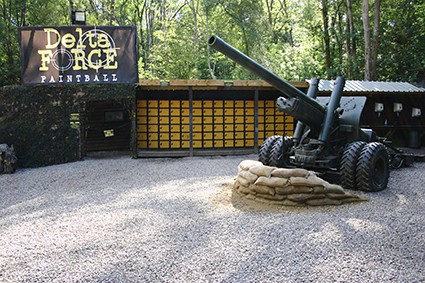 Homewood, our second paintball centre near Surrey, always makes a great first impression with our customers, especially with a crashed Alvis Stalwart heavy-duty amphibious military truck featured at the front entrance and visible from the main road. It also has a crashed helicopter which sits on top of one of the buildings at basecamp; a real focal and talking point for visitors! The centre also offers eight different game zones including the 'London Bus' where players will need to escort the American president back to his vehicle and protect him from attack and 'Tomb Raider' which features an impressive giant pyramid and mummy statues for players to hide behind.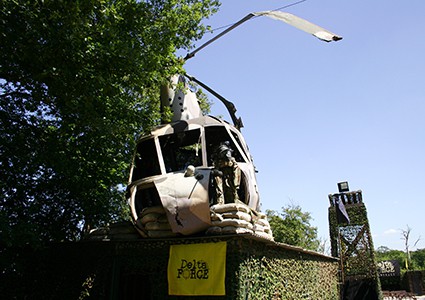 Both of our centres close to South West London offer players a selection of pyrotechnics to use throughout their game, including paint grenades, smoke grenades and Thunderflashes! They definitely add to the drama of the moment and can help to disorientate your opposition, as well acting as a clever diversion!
For more information about our South West London paintball centres or to book a day of paintballing with us, call the booking office on 0844 477 5050 and speak to a member of staff.