FEATURE ARTICLE
Avengers Ultron meets Delta Force Paintball
With Age of Ultron - the latest instalment of the ever expanding Marvel Universe franchise – taking UK cinemas by storm, it got us thinking. Which silver screen superheroes would be the best on our paintball game zones?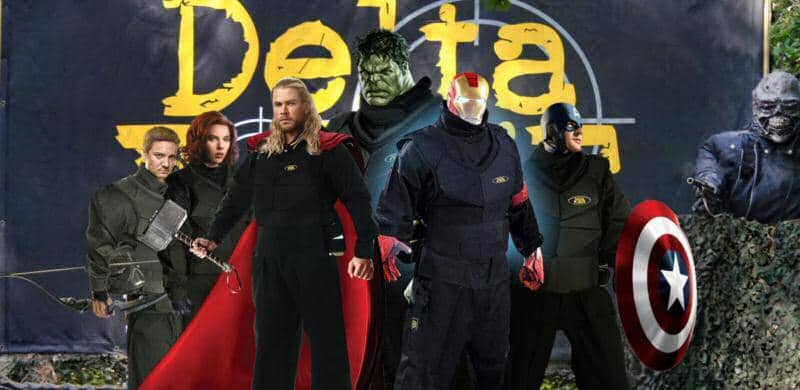 Sure, they may be able to take down each other and hordes of invading aliens from another dimension, but are they prepared for all the action of a paintball day? Well without further ado let's find out!
Iron man
Real name: Tony Stark
Pros: With his distinctive red and gold metal suit, the self-made billionaire would be able to deflect the majority of oncoming paintballs with ease, while his in-built booster pack would allow him to fly from game zone to game zone with little effort. His on-board computer J.A.R.V.I.S could easily locate multiple targets and scan for others behind walls and barrels.
Cons: Iron Man's playboy antics and cockiness could work against him. There's nothing worse than an over-confident upstart on the paintball field. If he takes his eye off the ball, he's toast.
Black Widow
Real name: Natasha Romanova
Pros: This S.H.I.E.L.D agent possesses phenomenal reflexes and gymnastic skills, allowing her to dodge oncoming paintballs and scale structures such as Castle Wallenberg and The Black Pearl with ease. Her undoubted sex appeal could have her male opponents firing their M16 upgrade paintball guns prematurely.
Cons: An inexperienced gun handler, the Widow is better when it comes to hand-to-hand combat. Expect to see her purchasing some optional paint grenades from the basecamp shop.
Hulk
Real name: Bruce Banner
Pros: Having a strategy before entering the paintball battlefield is paramount, and with Bruce's high levels of intelligence you'd expect him to arrive at basecamp prepared.
Cons: When Bruce gets angry he becomes the Hulk – an uncontrollable green beast with power beyond his means. While strength is often a plus on the paintball battlefield, destroying the movie-set game zones is not, and could result in instant disqualification by the Delta Force Paintball marshals.
Captain America
Real Name: Steve Rogers
Pros: Not only does Captain America boast extreme fitness levels and strength, he also possesses incredible instinct. If the Delta Force Paintball marshals allow it, his protective shield could be a stroke of genius.
Cons: Primarily a human, Captain America is susceptible to gunshot wounds. Luckily for him he'll be decked out in Delta Force Paintball's protective body armour.
Thor
Real name: Thor Odinson
Pros: Thor's incredible physique should work in his favour, while his ability to fly could get him to some good vantage points on the paintball battlefield. The Asgardian's capacity to create thunderstorms could distract his opponents and allow him to strike.
Cons: Sadly not the brightest bolt in the clouds, Thor will most likely arrive in basecamp without a strategy. While paintball is a physical game, the battle is often won in the mind.
Hawkeye
Real Name: Clint Barton
Pros: Like Black Widow, Hawkeye is a seasoned S.H.I.E.L.D. agent. A pro with a bow, Hawkeye's aim could come in handy when targeting his prey on the paintball battlefield.
Cons: While he may possess great aim, Hawkeye is more comfortable with arrows than sub-machine paintball guns.
The verdict
It's all well and good being able to fly, scale buildings and influence the weather, but to win a paintball game you need intelligence, passion and the ability not to break out of your combat suit (take note Bruce Banner). Our money would be on Captain America, but as we discover every week - anything can happen on the paintball battlefield!
Do you want to release your inner paintball hero? Then why not call one of our friendly event coordinators 24/7 on 0844 477 5115*? Alternatively you can visit our booking page to request a call back.