FEATURE ARTICLE
Exeter paintball with Delta Force: Top birthday parties and more!
Exeter Paintball has never been so good! Delta Force brings paintball fanatics living in Exeter the very best in paintballing technology, with state-of-the-art equipment and movie-like game zones to enjoy!
Surrounded by beautiful woodlands, Delta Force Paintball Plymouth has an exciting selection of game scenarios to act out with your friends, such as 'Chemical Alley', where your mission is to take over a heavily protected fuel depot and 'Castle Wallenberg' where players are have to launch an attack on the opposition who are defending a two storey fortress! Other game zones include Viet Cong Village which features loads of abandoned village huts for players to hide in.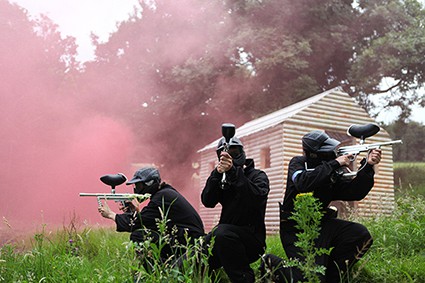 Our paintball centres are also the perfect way to celebrate your birthday! Our birthday parties for children are so much fun; young boys and girls (over the age of 10) can dart about in the woods, hide behind trees and fire paintballs at one another, all day long! Parents can relax knowing that we place the utmost importance on the safety of all our guests. Our first class safety gear includes full helmets with anti-fog lenses, complete body armour and combat suits with padded neck collars. Gloves are also available to purchase – everything you need to be completely protected on the battlefield. Our semi-automatic paintball guns at Delta Force Plymouth are also of the highest standard, well looked after and maintained to ensure reliability and durability during gameplay. Our expert team is well organised and they are 100% dedicated in bringing you the best paintball experience possible.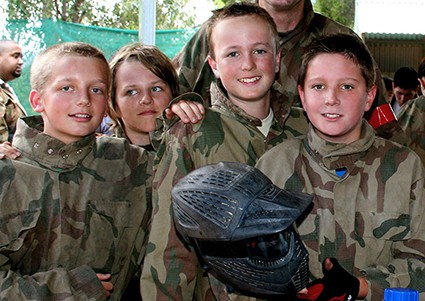 Exeter Paintball with Delta Force also brings you first class centre facilities for maximum comfort. We provide proper flushing toilets on mains water; secure lockers for storing your belongings (at a small additional charge) and picnic areas with lots of seating. At lunchtime we can provide hot pizzas, freshly prepared by an offsite catering company. These can be ordered in advance (at the time of booking) or on the day (before 11am) and if it's your birthday, we can serve birthday cake (BYO) too! Making your day with us feel really special...
To request further information about Exeter Paintball with Delta Force, or to book your birthday party with us, call 0844 477 5115* and speak to a member of staff who will be happy to help you.