FEATURE ARTICLE
Downing Street Fighter – Hyper Paintball Edition
Paintball fans! As you may or may not be aware, it's UK General Election time and the pressure is on to decide who you should be voting for... Fear not! Delta Force Paintball – the UK's number one political authority - is here to help....
Election Advice: Delta Force Paintball Style
Rather than watching endless party political broadcasts (you know, those mind-numbing videos in-between the news and Emmerdale) or sifting through half a tree's worth of campaign leaflets, we've devised a fail-safe process to help you make the right choice.
Over the next fortnight, Westminster's top politicians will be battling it out at local Delta Force Paintball Centres in a series of death-defying duels in our new feature - Downing Street Fighter!
So without further ado, let's meet our paintball gun wielding contenders...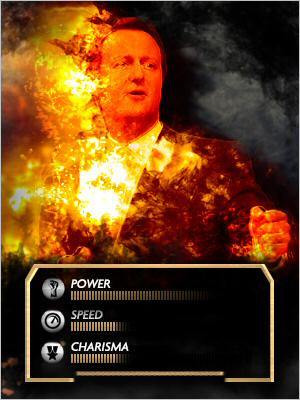 David 'Cam-Lie' Cameron
Background
Heavily based on 'Chun-Li' – the first ever female player in the Street Fighter series; Cam-Li is one of the quickest thinkers on Downing Street. Her sharpness could prove vital on the paintball battlefield. On top of her protective paintball headgear and body armour, Cam typically wears white combat boots, a blue leotard with dark brown sheer pantyhose and skimpy blue panties - perfectly paired with a paintball combat suit.

Signature Move
Her signature move is the 'Lightning Kick' – where she repeatedly kicks her opponent (while they're down) from a tilted standing position with incredible speed. Her favourite paintball game zones are rumoured to be Command Post and London Apocalypse.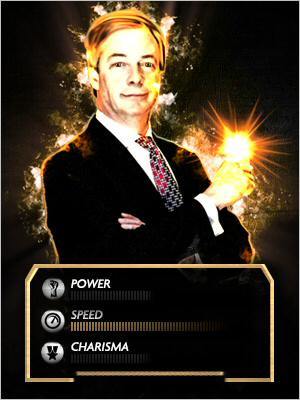 Nigel 'UKIP Vega' Farage
Background
Modelled on 'Vega' – commonly described as a vain, sadistic bloodthirsty monster who is convinced in his own abilities and takes great pleasure in seeing the ugly murdered – Farage enters the paintball battlefield as an unpredictable underdog. The beast typically wears maroon and yellow ceremonial trousers with a purple snake tattooed on his chest. His least favourite game zone is rumoured to be the Border Crossing, while he particularly excels at the Berlin Wall.
Signature Move
His signature move involves smashing a pint glass over his opponent's head while aimlessly wielding a sharp claw, although he may have to make do with launching an optional paint grenade on this occasion.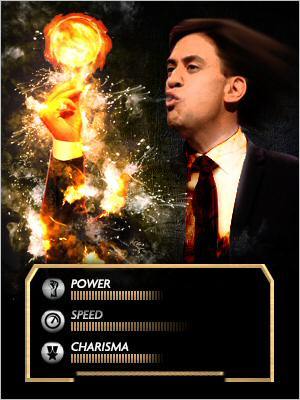 Ed 'Red Ryu' Miliband
Background
Based on the infamous 'Ryu' – a 'rough and tumble fighter with a goofy personality' – Miliband is said to get slightly irritable when hungry. Ed's most recognisable attire consists of a white karate gi with the sleeves torn off, medium length hair and a long red headband. He particularly enjoys the Counter Strike game scenario.
Signature Move
His signature move is known as the Hadoken – a slightly camp thrusting punch that releases an energy surge through the palms. At the time of writing it's unclear whether Ed will purchase Delta Force's optional armoured gloves from the basecamp shop, but we'd certainly recommend it.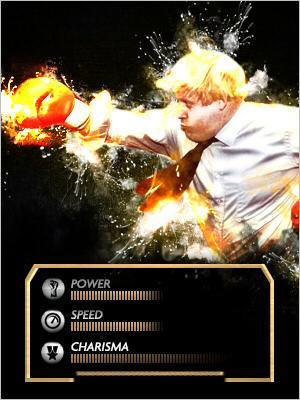 Boris 'Torie Ken' Johnson
Background
Based on legendary Street Fighter 'Ken', Boris is known as a flamboyant, unorthodox, unpredictable alpha male who constantly reminds his opponents of his greatness. While he can be brash, egotistical and arrogant at times, his heart is pure. Described as having long blonde hair and long eyebrows, Boris commonly wears a black belt around his waist. He normally fights barefooted, but the Delta Force Paintball marshals have strongly warned him against it on this occasion.
Signature Move
Boris' special move involves the use of an M16 upgrade machine gun and a copy of the Daily Telegraph.