FEATURE ARTICLE
Paintballing Leicester voted best paintballing in the UK!
Leicester and Coventry residents have gone mad for paintball – and it's all happened since the opening of the new Delta Force Paintball centre just off the M69, mid-way between Leicester and Coventry. This is one of Britain's newest leisure facilities and probably also the most extravagant of UK paintball centres.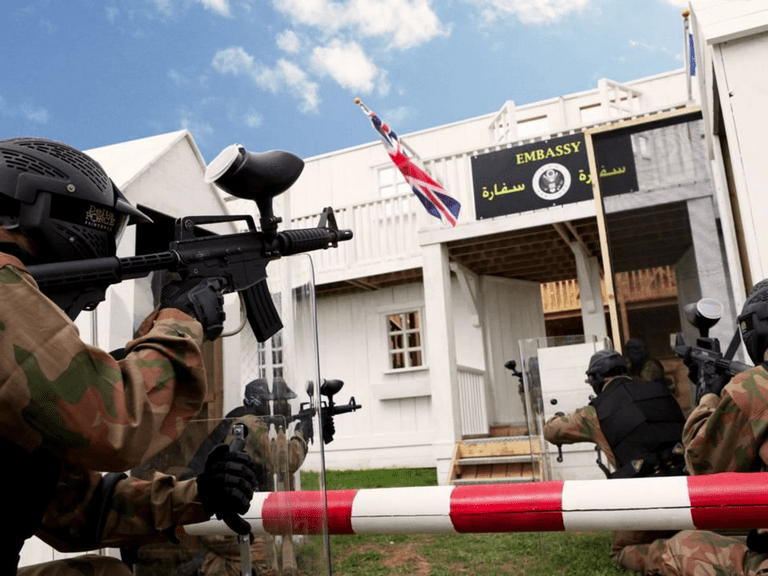 The property was formerly occupied by Predator Paintball, which was dependent on business generated from a marketing agency that splintered off from Ministry of Paintball in Birmingham when Ministry of Paintball collapsed. Delta Force Paintball acquired the property from the previous owners and spent more than £½million transforming the facilities to bring truly world-class paintballing facilities to those wishing to indulge in paintballing in the Leicester or Coventry areas.
The amazing game zones at this paintball centre include many of the Delta Force Paintball signature game zones, but also a truly unique one – Streets of Afghanistan (aka Desert Storm). This epic 'map' (or game zone to older readers) is modeled on an actual MoD special forces training facility. A whole Afghan town has been created including a vast embassy building and a substantial hotel (both two-storey buildings). Rumbling through the dusty streets is a convoy of 5 armoured Land Rovers (the genuine article – and part of a consignment of 20 bought by Delta Force Paintball from the MoD in 2012). The scenario is that an RPG has disabled two of the vehicles in the convoy and the troops have to fight their way out and into the safety of the Embassy.
The DF staff, and there are more than 1000 of us around the UK have voted this game zone the BEST in the entire country. They call it Call of Duty – but for real!
For location details please see https://www.paintballgames.co.uk/centre/coventry-paintball