FEATURE ARTICLE
Fun childrens birthday parties at Delta Force Paintball Hampshire!
Delta Force paintball Hampshire sits just on the outskirts of Southampton in Romsey. The centre provides some amazing game zones with Hollywood style themes and fantastic equipment and facilities at base camp. It's the perfect outdoor adventure that can include all members of the family, as we accommodate players aged 8 years upwards!
The base camp at the Southampton paintball centre features an Alvis Stalwart heavy-duty amphibious military truck which makes a fantastic focal point for group photos. Other top class facilities include proper flushing toilets on mains water, open and covered picnic areas with lots of seating and secure lockers for guests to store their valuables (for a small fee). Delta Force Paintball Southampton can provide players with a hot pizza at lunch time, freshly prepared by an offsite catering company with margherita and pepperoni options available. Birthday cakes are always welcome if you're playing paintball and celebrating a special day with us.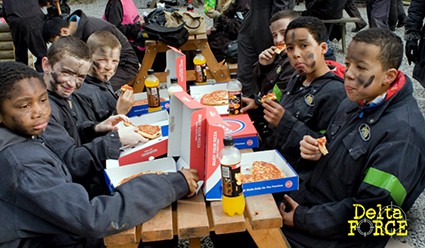 Our paintball parties for children are every youngster's dream! Where else can you have fun in the great outdoors, hiding behind trees and shooting at your friends? It's a great way of getting lots of fresh air and exercise; you'll finish your time at Delta Force Paintball in Hampshire on a real high! Our expert team will have your whole day thoroughly planned out and will ensure everything goes without a hitch. There's no need to worry about the safety aspect of paintballing - we have a fantastic reputation for outstanding health and safety measures. At the Romsey paintball centre we equip all players with high spec paintball safety gear, from full head helmets with anti-fog lenses (which are checked before play begins), full body armour and combat suits with padded neck collars. Our paintball guns are also of the highest standard and well looked after to ensure reliability and durability during gameplay.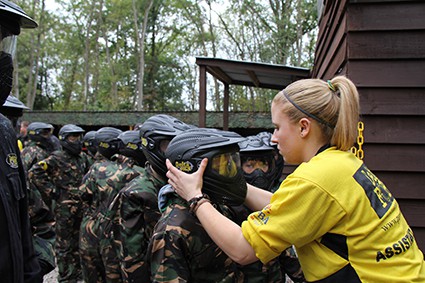 The game zones at Delta Force Paintball Hampshire include A Bridge Too Far, Command Post, Castle Wallenberg, Chemical Alley, London Apocalypse, The Haunted Graveyard and Viet Cong Village. Adult players at the Southampton paintball centre even have the option of using Delta Force Paintball's pyrotechnics, including paint grenades and MK5 Thunderflashes!
For more information about Delta Force Paintball Southampton or to arrange a day of paintballing with us in Hampshire, just call 0844 477 5115 and speak to one of our friendly advisors.