FEATURE ARTICLE
Coming Soon: Edge of Tomorrow – We have the Chopper !
Released on May 30th, Tom Cruise and Emily Blunt take the lead roles in this year's latest sci-fi blockbuster Edge of Tomorrow, an epic revamping of the Japanese light novel 'All You Need Is Kill'.
In the film, Tom Cruise's character Major William Cage finds himself in an endless time loop between death and fighting off Earth's alien invaders – each new life enables him to ascend his fighter skills during his battles.  A film with such a huge budget means that aside from the epic on-screen action and special effects, there will be hundreds of props used to enhance the atmosphere, offer realism and other important cinematic traits.  Some of the props then become available once filming and production finishes - and we grabbed the very best of the bunch!

Delta Force Paintball were successful in securing not only one, but two of the UDF helicopters used in the filming of the movie Edge of Tomorrow.  The first of two helicopters sits proudly in the basecamp of our
Surrey Paintball Centre and joins our other blockbuster props – a crashed chopper from an episode of the television series Silent Witness, and an Avis Stalwart amphibious military vehicle.  The UDF (United Defence Force) green and grey helicopters are used to transport the troops into battle and we're honoured to be the recipients of the latest Hollywood movie-set props.  The second UDF helicopter from Edge of Tomorrow was recently installed at the brand new
Sheffield Paintball Centre, which opened earlier this year.  These centrepieces never fail to be popular with visitors and provide fantastic photo opportunities during a day of paintball at Delta Force.  Feel free to climb inside the
UDF helicopter at the Delta Force Paintball centre in Surrey and explore the inner workings of this awesome machine, as we have left most of the interior untouched for extra authenticity – yet unfortunately we had to remove the ejector button!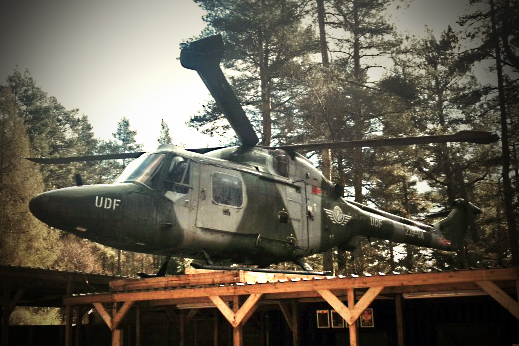 Along with our intergalactic adventure
Space Warz and the revamped Tower of London game zones, the
Surrey Paintball Centre has seen over £40,000 alone spent on designing, developing and constructing these awesome game zones and props.  Come along and see it in the flesh, there is no other way to experience it!