FEATURE ARTICLE
Tom Cruise's alien-killing helicopter touches down in Surrey Paintball
Fresh from the set of Edge of Tomorrow, a sci-fi Japanese novel to film adaptation that sees Tom Cruise, Emily Blunt and Jeremy Piven taking the lead roles, is Delta Force Paintball's latest showpiece.
We have managed to acquire an immense 'UDF' (United Defence Force) green and grey helicopter, in the film UDF army units are transported into battle against the alien 'Mimics' that are hell-bent on taking over the Earth. The film is set for release in 2014 and recently aired at this year's Comic-Con event and is tipped by many to become a grittier version of Starship Troopers.
We believe it to be the ultimate showpiece to sit alongside our other spectacular props that welcome visitors to Delta Force Paintball Surrey; our existing portfolio at the Surrey paintball centre includes a crashed chopper from an episode of the series Silent Witness and a fully restored Avis Stalwart that is situated at the entrance to the Surrey paintball centre. These centrepieces are always popular with visitors and provide fantastic photo opportunities during your Delta Force Paintball experience.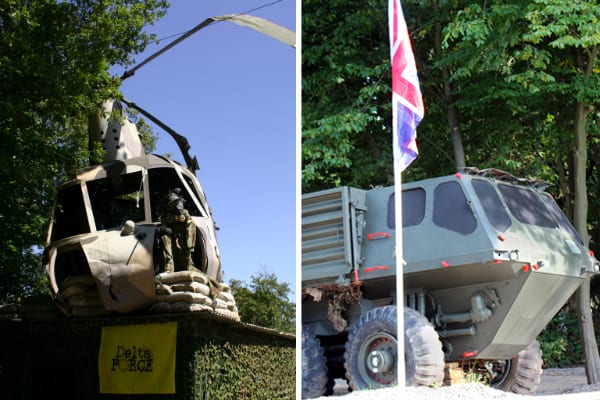 Installing this addition is the latest stage in what is a major redevelopment project costing in excess of £100,000 at Delta Force Paintball Surrey, widely regarded as the home of UK paintball. Over £40,000 alone was spent in designing, developing and building the new Space Warz game zone, which includes a to-scale Imperial Shuttle and a Scout Walker which can be used as a sniper spot over the iconic blast doors.
The final touches are also being made to a brand new London Town game zone. Here, players can take refuge within the 30ft high replica Big Ben clock tower on either of the two of the double-decker London buses, while battling the enemy charging forward from the imposing Tower of London structure. This ground-breaking game zone even has themed cover for those brave enough to venture forward including genuine fairway black cabs, and mock London street signs to give added character.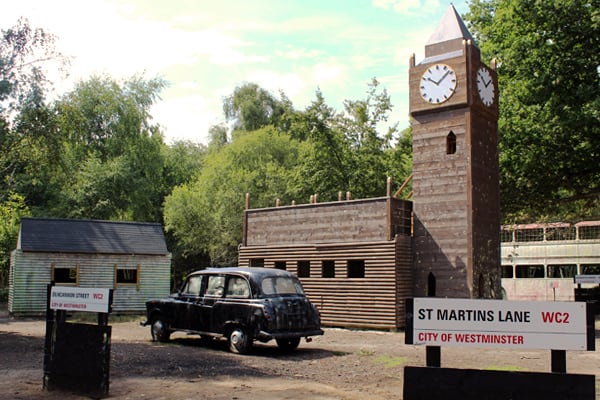 Extra investment has led to improvements to the base camp and parking area, giving the centre an all-round polished feel and justifying its position as Delta Force Paintball's flagship paintball centre. For any additional information, please contact us on 0844 477 5115*