FEATURE ARTICLE
Delta Force Tanks – Call of Duty game zone – Kent Paintball
Many of the props we have in the game zones (or 'maps') at Delta Force Paintball centres across the globe feature real tanks, armoured cars, artillery pieces, rockets and rocket-launchers, planes, helicopters, cars, trucks, and even double-decker-buses – but we also custom-make our own set-pieces.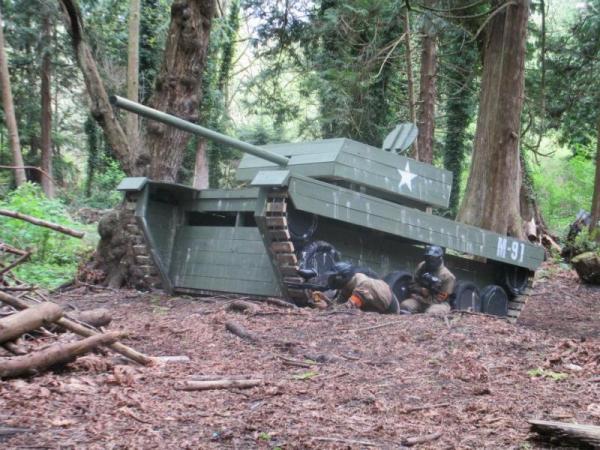 Paintballing in Kent
Sometimes these custom-made pieces are actually even better than the real thing as we can squeeze them into otherwise inaccessible places on our movie-set quality game zones in our woodlands – and they are built with paintball-playing in mind.
Take the tanks at Delta Force Paintball in Orpington, Kent for example – these puppies can take up to 8 paintball gun-toting players inside their super-structures – and those players can fire out at the enemy through purpose-made gun-slots. When battle gets underway, everyone's paintball guns are blazing and the air is filled with smoke from all the grenades that have been let-off – there's only one word to describe it – mayhem! Paintball was always great fun – but it's been taken to new heights with all this extra showmanship.
When you come paintballing at Delta Force it's not just paintball – it's so much more!