FEATURE ARTICLE
Delta Force Paintball West London features in Channel 4's Peep Show!
Delta Force Paintball West London has proved to be a big hit with paintball enthusiasts in the UK and even with the likes of celebrities, David Mitchell and Robert Webb - more commonly known as the comical duo, Mark and Jeremy from Channel 4's popular sit com Peep Show.
The centre based in Gerrards Cross and only minutes away from the M25 and M40, offers some of the best paintball game zones available including: Castle Wallenberg which features a large two-storey wooden fortress, Chemical Alley where players need to try and seize control of a heavily guarded fuel depot, London Apocalypse which features real life double decker buses for players to take shelter in and  the Viet Cong Village where participants will be faced with lots of hostile villagers! Add to this our first class centre facilities (with proper flushing WCs and comfortable areas at base camp) and dedicated paintball staff, and you can see why Delta Force Paintball West London is a popular venue amongst our customers.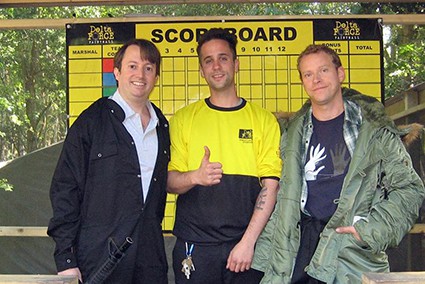 The Peep Show cast and crew visited our West London paintball centre and filmed an episode of the show which aired at the end of last year. The episode involved Mark, Super Hands and Jez enjoying a day of paintball at our West London centre. The episode took a whole day to film with the Peep Show boys charging about in the woods, having a great old time! Some content was written purely for entertainment purposes (for example scenes where no goggles were worn and suspicious activity) there was a closed set and none of the guns were live – everything was created with special effects during post production; Delta Force takes a strict view on health and safety practices which is why these essential measures were put in place.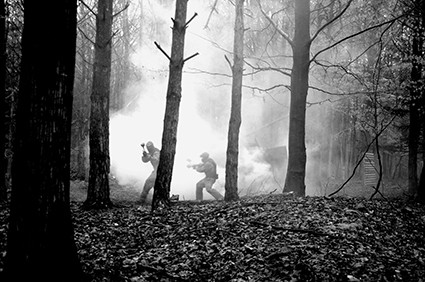 We hope you managed to watch the Peep Show episode featuring Delta Force Paintball West London, but, if you missed it… Why not book a day of paintball at our centre and try it for yourself?! Call the booking office on 0844 477 5115* and speak to one of our friendly advisors who will be happy to take your call.