FEATURE ARTICLE
Peep Show episode filmed at Delta Force Paintball
The latest episode of Peep Show that aired on Sunday 9th December involved Mark, Super Hans and Jez testing their paintball ability on a fun day out. The popular Channel 4 show was filmed earlier this year at the Delta Force paintball centre in Gerrards Cross. The episode was filmed over the course of a day and the team at Delta Force think it's nice to see the fun sport of paintball is gaining popularity and receiving more exposure. Of course some of the content was written for entertainment purposes – Delta Force take a strict view on safety and during filming there was a closed set policy in place and there were no live guns and not even a single paintball was fired. It's amazing what special effects can be added to TV and films for creative effect!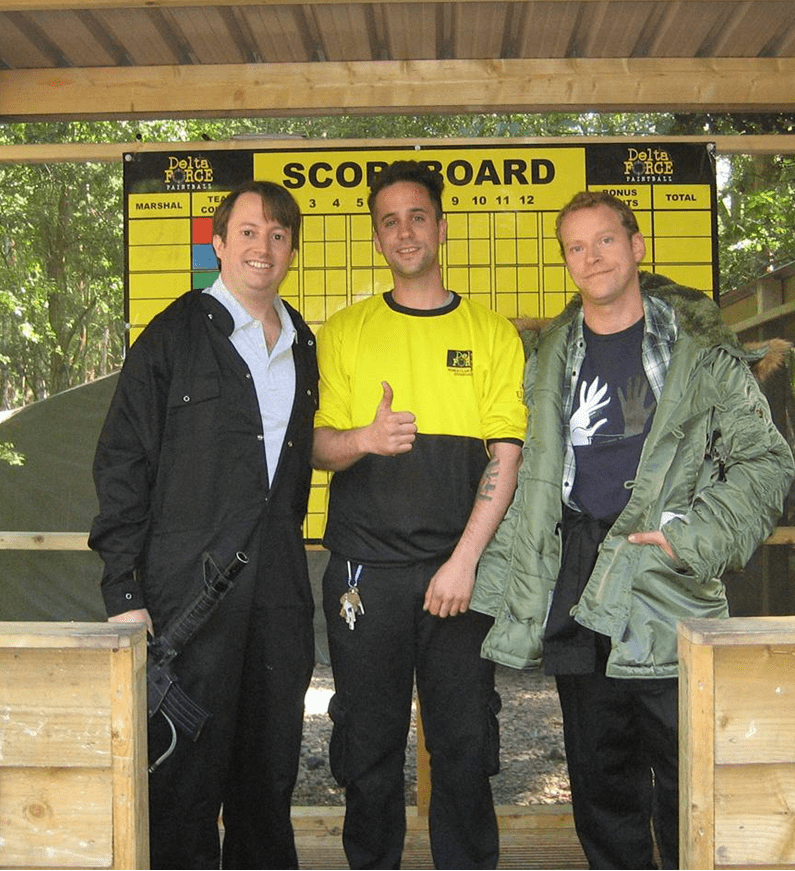 The episode is a good example of what not to do when in a real paintball environment and at all Delta Force centres full safety instructions and regular supervision is given to ensure all players understand the need to respect the regulations involved when playing paintball. In addition to the ultimate crimes in the paintball world shown during the episode – no goggle wearing and drug taking – we'd like to point out that we also do not condone using our fields as and when nature calls as Mark Corrigan's actor took it upon himself to do. At all our 28 centres across the UK we provide flushing WCs so we strongly suggest you take a moment to prepare yourself before heading out to our game zones!
We hope all paintball players enjoyed the Peep Show episode and realise that it's not reality. If you'd like to visit a Delta Force paintball centre for a taste of what happens during a real session of paintball , please call our booking office on 0844 477 5050.