FEATURE ARTICLE
Birmingham – The Midlands' Biggest Paintball Venue!
Looking online for 'paintball Birmingham'? Then carry on reading! Delta Force Paintball can be found just off the M42 in nearby Solihull, just 9 miles South East of Birmingham city centre.
Surrounded by mixed woodland on 64 acres of land, our Birmingham Paintball Centre is the biggest paintball centre in the Midlands. Because of this, the venue offers up to 10 fantastic game zones, including Pablo Escobar's Air Strip, where you and your specialist unit are sent on a drugs enforcement mission; London Bus , where you'll need to escort the US president on his tour of the UK and protect him from danger and Mad Murphy's Jungle Attack, which will involve recuing an injured allied airman who's trapped somewhere deep inside the rainforest.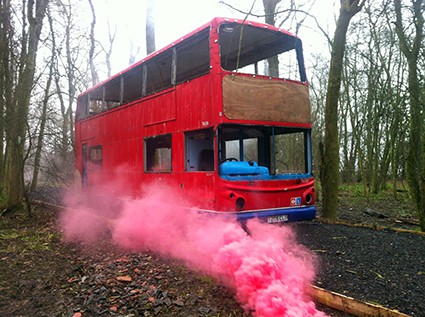 All our paintball game zones come complete with movie style props, such as: wooden bridges, dug-outs, military vehicles, bunkers, gravestones, buildings (i.e. churches), a huge wood fortress with sniper tower and lots of wooden village huts. We even offer our adult players the chance to use our paintball pyrotechnics (smoke grenades) during their games – these added extras can make all the difference during war!
But, your opponents aren't the only danger you'll need to be weary of… The Delta Force Terminator is known to lurk in the woods, looking for a worthy foe! Armed with his deadly BT4 semi-automatic paintball markers, the Terminator can appear in any game zone at any time, without warning! If he decides he wants to challenge you, and should you accept, he'll give up one of his awesome paintball guns for you to use for the rest of the game (if he thinks you're worthy of it). It's the only way you can get to use one of his lethal weapons, so make sure you keep an eye out for the Delta Force Terminator!
If you'd like to book your paintball event at Delta Force Paintball Birmingham, or if you'd like to request further information about our centres or facilities, call the bookings team on 0844 477 5115*