FEATURE ARTICLE
Delta Force Effingham wins UK paintball award
Congratulations to our Delta Force Paintball manager Russ Samson, who has just been awarded the prestigious Centre of Excellence trophy for his hard work and dedication down at Delta Force Paintball South West London in Effingham, the heart of Surrey.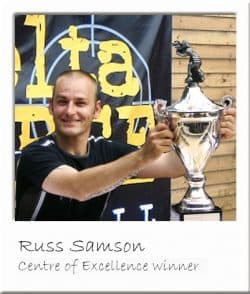 Success is not new to Russ and his team, the Effingham Paintball Centre has also been awarded with the prize three times in as many years - and it's not hard to see why. With Call of Duty style game zone missions like the unique Berlin Wall, or the close combat experience on scenarios such as the adrenaline fuelled Speedball, a day out here will leave your heart pounding.
A day out at Delta Force Effingham is more than just a day out paintballing, it is a full blown paintball extravaganza and our quarterly Centre of Excellence award is a marker of just that. The coveted prize is awarded for exceptional performance in a number of categories including; facilities, equipment, customer feedback and customer satisfaction.
The basecamp at Delta Force Paintball South West London is designed to keep you comfortable in between games and has the amazing backdrop of a military WWII cannon right in the middle of all the action. This has made it a perfect location for players to gather together and take a memorable celebration shot of their paintballing triumphs. To visit Delta Force Paintball in Effingham or any of the Delta Force Paintball centres throughout the UK, please call the friendly booking office on 0844 477 5115*