FEATURE ARTICLE
Corporate day of paintballing action with Delta Force Paintball.
At Delta Force Paintball we are renowned for organising corporate days of paintball adventure, and
we want to organise a team-building day of
outdoor activity for you! Chelsea FC recently played paintball in Effingham,
and midfielder Michael Ballack credited their 4-0 victory over West Ham to the team-building day of paintball.
Almost 20 years of experience in organising paintball events has
proven that paintball with Delta Force Paintball is an extremely effective team-building event that can benefit
corporate groups of all shapes and sizes.
Over the years we have organised corporate days of outdoor
paintball adventure for countless businesses, including McDonalds Restaurants, Pepsi Cola International,
British Telecommunications, Kiss 100 FM, British Sky Broadcasting and many more.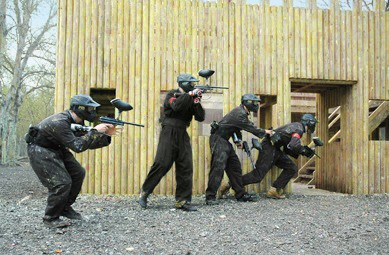 Saks Regional Director Trevor Coomber recently played at one of our paintball centres in Surrey
and wrote in to say thanks;
"One of our company philosophies is 'Work hard and play hard' and the paintball day out certainly fit
the bill. Everyone who participated learned some valuable lessons in team building, discipline, trusting your
team mates and winning!"
If you want to improve your office morale, encourage team-building and improve productivity in the office then
why not organise a day of paintballing adventure with Delta Force Paintball! If you are interested in more than
just paintball for your corporate day out
then visit our multi-activities page – we can organise a range of activities to suit your unique corporate
needs.