FEATURE ARTICLE
Chelsea FC teammates battle after beating Manchester City 2-1
Chelsea FC and England Captain John Terry celebrated his side's heroic come-from-behind victory against Manchester City last night with an epic battle against his team mates – out on the paintball field at Delta Force Paintball in Cobham.
John Terry, affectionately known as 'JT' by his teammates, was joined by fellow defender Ashley Cole and striker Daniel Sturridge for a  day of paintball action. The last time the boys in blue from Chelsea visited Delta Force they ended up beating West Ham the following week and ultimately went on to win the Premiership later in the year. Terry and his paintball comrades hope that this season will follow a similar path.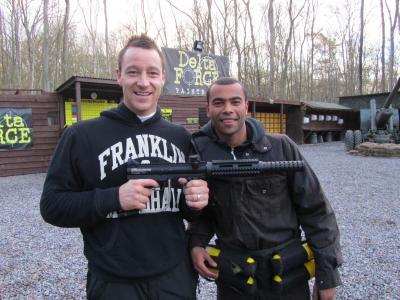 Terry, an avid paintball enthusiast, has organised multiple paintball events and praised the impressive game scenarios, paintball facilities and superior level of health and safety at Delta Force Cobham. Donned in full head protection goggles, padded body armour and full length combat suits, John Terry, Ashley Cole and Daniel Sturridge traded shots, launched grenades, executed perfectly timed commando rolls and displayed the resilience that earned them victory against Man City. At the end of the day it was John Terry's team that proved the victors, winning by an impressive margin of 40 points.
It's always an absolute honour to host sporting greats such as Chelsea FC, and it is a true testament to the unrelenting standards of quality, service, facilities and equipment that Delta Force offers.  If you want to join the likes of Chelsea FC, McLaren F1 Racing, Leeds Rhinos, Essex County Cricket and Manchester United in becoming a true Delta Force Paintball enthusiast then call us on 0844 477 5115*