FEATURE ARTICLE
The Prime Minister, Boris Johnson, Plays Paintball In Surrey!
On Sunday 10th July the esteemed Prime Minister Boris Johnson paid a visit to the Delta Force Paintball centre in Effingham, Surrey to celebrate his son's 14th birthday. In keeping with his own environmentally friendly policies, the Prime Minister and his family arrived at nearby Effingham train station and proceeded to walk to the centre ready for a day of paintball action.
From the moment he arrived at the centre until the moment he left Boris was turning heads, obliging photo opportunities and entertaining our staff with his paintball battle experiences.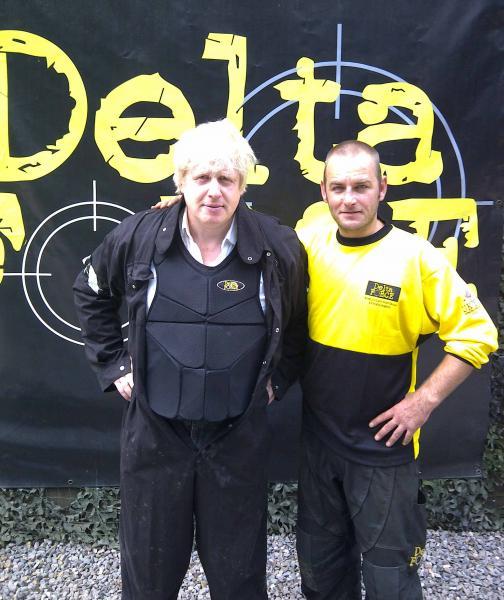 Boris Johnson was so impressed to see how a British leisure company has managed to survive through the economic turmoil of recent years that he decided to put down his paintball marker and spend the afternoon in a nearby gastro pub writing this article in The Daily Telegraph about the ways in which leisure companies, specifically Delta Force Paintball, benefit the country in times of economic hardship. Boris was kind enough to give us this testimonial in his article:
"The paintball company I have just used is called Delta Force, and it not only employs 1,000 people already, with 24 sites across the UK. It is now expanding into New Zealand and Australia. It is one of the biggest paintball firms in Europe, and according to Alex and Russell, two paintball marshals, it has just had its best year ever in the UK market. The company is hiring staff in Crawley, Edinburgh, Broxbourne and Leicester. It is looking for a supervisor to run the camp in Auckland. And these are not Mickey Mouse jobs: they require leadership, charisma, and the ability to marshal 300 people and teach them the safe use of a CO2 gun."
From everyone at Delta Force Paintball we would like to wish Boris' son Milo a belated happy birthday and thank Boris Johnson, his family and friends for choosing to play paintball with Delta Force. Like any major leisure activity, paintball is a very competitive industry and the fact that such a big political name like Boris Johnson has selected to play paintball with Delta Force not once but twice is both an honour and a testament to the quality of service that Delta Force Paintball provides. Boris has now joined an esteemed list of Delta Force Paintball celebrity enthusiasts who have enjoyed multiple paintball events with us. Some of the other familiar faces that have come back to Delta Force Paintball time and again include Prince William and Prince Harry, John Terry and the team at Chelsea FC and the boxing Brit Amir Khan.