FEATURE ARTICLE
Boris Johnson – mayor of London – plays paintball in Essex
Boris Johnson took time out of his busy schedule to let his hair down with friends at Delta Force Paintball East London. Getting down and dirty on the Upminster Paintball Centre's various themed game zones, Mr. Johnson proved once and for all he's not scared of tough competition.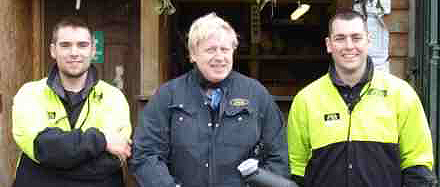 As one of the most noticeable figures in British politics, Mr. Johnson is renowned for his love of outdoor sports. A regular bike rider, his stamina and athletic ability were tested to their limits as he ducked and dived from incoming paintballs.
Taking full advantage of Delta Force Paintball's specially designed equipment, Mr. Johnson and his group kitted themselves out with body armour and battle packs with his blonde locks barely visible under the Delta Force Paintball full head helmet.