FEATURE ARTICLE
"Get to the Chopper" Black Hawk Down arrives at Delta Force Paintball
As an industry-leading paintball provider, it is only natural that Delta Force demands only the most epic and visually exciting props for its numerous worldwide centres. The Appin Paintball Centre in Sydney is no exception and has now followed in the footsteps of the Delta Force Paintball Surrey Centre here in the UK by importing a decommissioned Black Hawk chopper to be installed at its base camp!
Those walking the streets of Sydney were in for show stopping spectacle on Monday morning, as this huge chopper rolled eerily through traffic, even going over Harbour Bridge! Many scrambled to the get a closer look, but for those who didn't quite manage to catch it will now be able to get up close and personal as it will soon be taking centre stage in the Appin Paintball Centre's Tropic Thunder game zone! Because this particular military vehicle already has a long history with risky operations in Iraq and subsequent conflict zones – it has, in fact, been used by 25 nations, including Australia – it adds to the aura that surrounds such a historic piece, and will surely soon become popular with the players.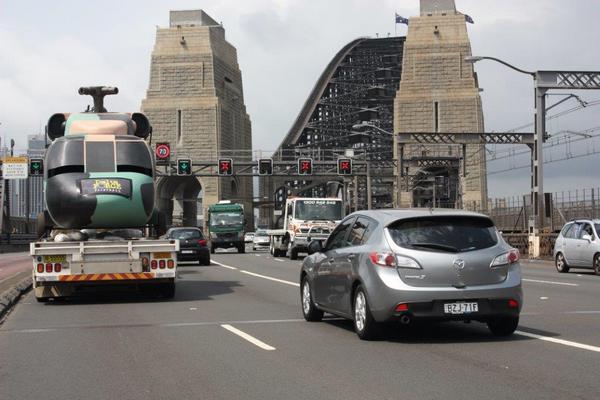 Weighing in at just over 2 tonnes, 17 metres in length and a rotor span of 16 metres, this is one of two genuine choppers that will bring a whole new dimension to Delta Force paintball sites in Australia. To coincide with the introduction of this major new instalment, the existing POW camp on the Tropic Thunder game zone will see two new tanks added, contributing to the overall depth of the game play that every player will be sure to enjoy.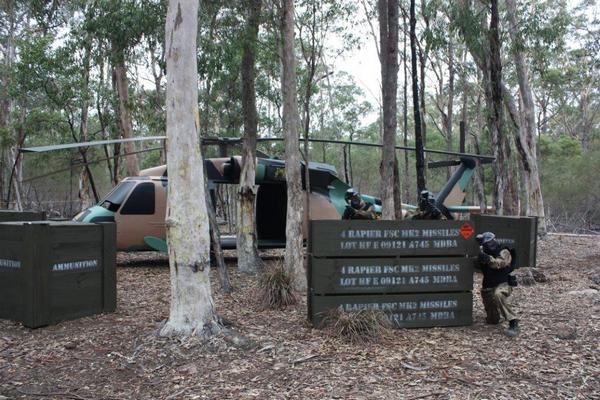 Yet the introduction of this beast was only the beginning for the Delta Force Paintball Appin Centre and its brand new makeover. The London Apocalypse game zone received an overhaul, with the iconic double-decker bus receiving a new paint job and both the bus and field getting fitted out with authentic-looking signage to make the whole experience that much more immersive. What's more, a fantastic Big Ben tower, complete with clocks is also being installed, which will give more cover for the players attacking the upper and lower decks of the bus.
Not to be left out, the remaining game zones all recieved maintenance and repainting where necessary and fresh gravel has been laid down in the base camp, new tables have been built and two big sun-proof and waterproof shade sails erected for the players' and visitors' benefit, giving the whole centre a total rejuvenated feel about the place. The Delta Force Paintball Appin Centre is now at the forefront of state-of-the-art facilities and challenging paintball game play, featuring props and structures that have to be seen to be believed!