FEATURE ARTICLE
The Perfect Present
As you begin to start to de-ice your car in the frosty mornings and wrap yourself up in multiple layers, the biggest celebration of the year – Christmas – draws closer and closer.  But do you know what to get your loved ones, your friends and your colleagues this festive season? Or are you looking for a gift that is unlike no other, one that is thoughtful and unique? A gift that will interest and excite all that will receive it? Well, a gift voucher for Delta Force Paintballing is your answer.

With our custom designed paintball gift vouchers, we are sure to please that special person you have in mind. Our packages offer full flexibility to accommodate the lucky recipient and with 34 paintballing venues strategically located around the UK, there is never too far a distance to travel for anyone to ensure a fun and thrilling day out. Our paintball centres are filled with state of the art elaborately designed game zones with world class props - ensuring an experience like no other! Our variety of designs and styles of game zones emphasises our values and ideals, our attention to detail throughout the entire experience for your enjoyment. Our game zones vary from intergalactic war zones that transport its players to another dimension, to London orientated settings which even include actual London red buses! Each paintball game zone is filled with a cunning mission which is designed to put your skills to the test, intensifying the experience and ensuring fun is had by all.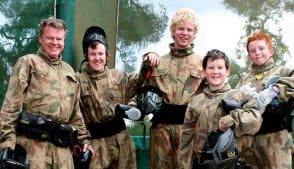 Our attentive and experienced members of staff are highly trained to adhere to specific health and safety guidelines and are on hand at all times to assist all participants. They have vast experience hosting a variety of events such as; corporate team building events, unforgettable stag and hen dos, children's paintballing parties- including "mini-ball" which is only for 8-10 year olds, as well as accommodating to a number of clientele- including celebrities like Lewis Hamilton, Cara Delevinge and Boris Johnson!
Whatever experience you have in mind, Delta Force Paintball will oblige and adjust our packages to cater for your perfect present. If you would like to discuss Christmas Gift vouchers or what we have on offer in further detail, please contact our helpful booking team who are available 24 hours a day, 7 days a week on 0844 477 5115*.