FEATURE ARTICLE
Share your best paintball tactics and win!
Some of you seem to rarely be on the receiving end of a barrage of paintballs. No matter how often you play paintball, you usually (if not always) emerge from the game victorious - unscathed and splatter-free. We want to know all the secrets behind your winning tactics. Is artful skill and precise planning involved in dodging the paintballs or is it merely dumb luck? Or are you simply more competitive and combative than the rest of us?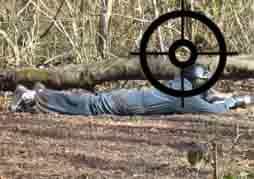 We would like to entice you to share your secret winning paintball tactics with those of us who end up being the prey rather than the predator on the paintball battlefields. Therefore we are resorting to old-fashioned bribery. If you share your paintball tactics with us you could win a fantastic new book; Paintball and Airsoft Battle Tactics.
The book, due to be published this month (February 2008), was written by an expert on military tactics. Paintball and Airsoft Battle Tactics is filled to the brim with exhaustive, professional advice on how to succeed in the paintball environment. It details on-target topics such as the best equipment to use, clothing, food and drink, signals, manoeuvres and much more. Armed with the knowledge contained in this book, even the best paintball player is bound to improve.
We have five copies to give away. To enter the draw, simply e-mail your name, contact information and a detailed description of one or more of your sure-fire, winning paintball tactics to info@paintballgames.co.uk.