FEATURE ARTICLE
Paintball For Kids – Four Crucial Checks To Ensure Their Safety
At Delta Force we get people of all ages playing paintball at our centres; from eight to seventy five! Although our safety procedures are unparalleled (and set the standard for the UK commercial paintball industry) and our paintball equipment is top of the range, we get a lot of enquiries from parents of younger children concerned for their safety. Even though recent surveys have shown that paintball is statistically safer than rugby, football and even golf, it's understandable that parents may still be concerned about their children so here's a list of four checks you should make before you book your children in for a day of paintball: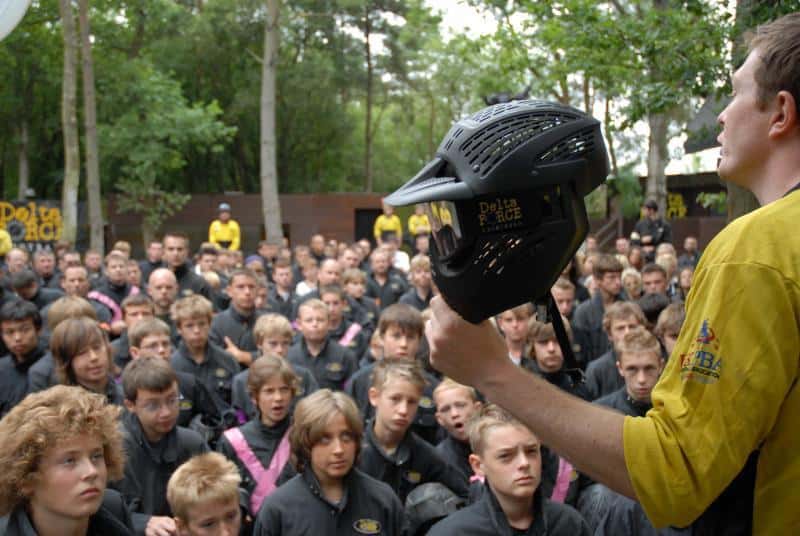 Full Head Helmets – Make sure the venue you plan to book your paintball event with provide full head helmets. Many paintball companies still use face protection masks that offer no protection for the rest of the head, which in some cases can lead to injury. Delta Force Paintball is the only UK paintball provider to offer full head protection paintball goggles as standard at every one of their centres which when coupled up with the padded collars on our combat suits provide complete protection for the most vital parts of the body.
Professional Marshals – If you are arranging a paintball game for kids as young as eight, you probably want to make sure that the marshals in charge of supervising your children while they are paintballing are qualified and professionally trained. All Delta Force marshals are qualified to run paintball games and senior managers have first aid qualifications so as the group organiser, you can rest easy that your group is in safe hands.
Safety Record – A companies safety record will tell you a lot more about the company than slick marketing. Before you book your paintball event, it's best to do some research and find out what safety measures the company implements and what their safety record is like. Delta Force Paintball is the only paintball provider in the country that holds a first class safety record, which after 23 years of operation is no mean feat!
Fun Factor – Although safety is arguably the most important factor to consider when arranging a paintball event, you have also got to remember that you and your group are there to have fun! Before booking, it's always best to find out what companies offer more than others, who provides the best looking game zones and if they offer any optional extras such as upgrade paintball guns or costumes. If you follow these guidelines, you will be a step closer to finding the paintball operator for your event. Paintball has always been a hugely popular amongst kids as there is no other activity that lets them live out battle scenes that they have seen in their favourite film or computer game. Booking a day at a Delta Force Paintball centre couldn't be simpler – all you have to do is call our booking office on 0844 477 5050 and one of our friendly event coordinators will be standing by ready to arrange your perfect paintball event.