FEATURE ARTICLE
Our Exeter Paintball Centre is Devon's #1 Paintball Venue!
For individuals searching for suitable Exeter paintball centres, take a look at Delta Force Paintball in nearby Plymouth; providing paintball fanatics with a truly unforgettable experience!
Nestled in lots of lush woodland, Delta Force Paintball Exeter has a fantastic variety of game zones to explore with your friends, including 'Chemical Alley', where your mission is to take over a heavily guarded fuel depot, 'Castle Wallenberg' where you're ordered to launch an attack on the opposition who occupy a large two-storey fortress and 'Viet Cong Village' where you'll need to trek through the Ho Chi Minh trail and come face-to-face with lots of hostile villagers!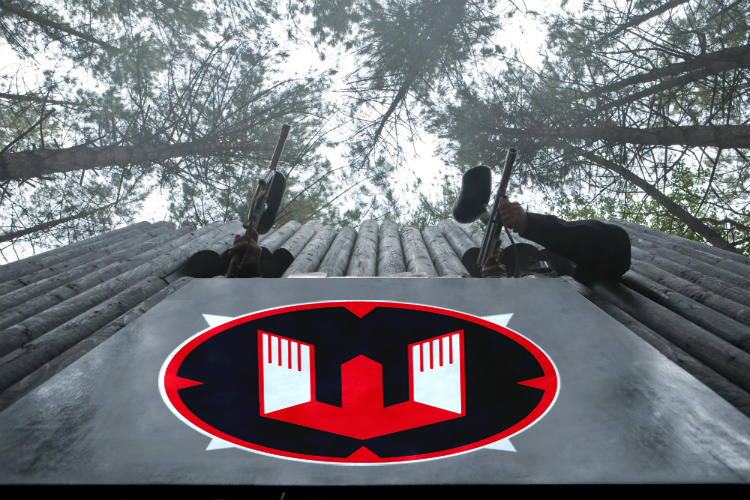 However, it's not just the opposing team you'll have to be wary of, out on the battlefield. Another threat that lurks in the woods is the Delta Force Terminator ! Armed with his lethal BT4 semi-automatic paintball markers, the Terminator will scour the game zones, looking for a worthy challenger… The rogue cybernetic assassin can appear in any game at any time, so make sure you keep your wits about you. If he decides he wants to challenge you, he'll raise his guns and point them in your direction; it's up to you whether to accept or not. If you don't want to face him, all you need to do is ignore him and hope that he finds another opponent. But, if you do, just point your gun back at him and take him on, one-to-one! If he thinks you're a worthy opponent, he'll give up one of his deadly paintball guns for you to use for the remainder of the game – it's the only way you can get your hands on his weapons!
Our Exeter Paintball Centre also boasts first-class facilities at basecamp , including open and covered picnic areas with plenty of seating, secure lockers for storing valuables (for a small charge) and proper flushing WCs on mains water – ensuring your time spent with us is as comfortable as possible. Our staff can even arrange for hot pizzas to be served at lunchtime, freshly prepared by a local, off-site catering company. All you need to do, is let us know in advance (at the time of booking), or on the morning of your paintball event (before 11am).
To book your day of paintball at our Exeter Paintball Centre, or to request additional information, simply call the bookings line on 0844 477 5115*