FEATURE ARTICLE
Incoming! A guide to Delta Force pyrotechnics
Thick coloured mist, unforgiving frag blasts, and thunderous explosions…when the enemy is dug in deep and a barrage of paintballs simply won't cut it, arm yourself to the teeth with our incredible selection of grenades!
There is simply no substitute when it comes to subterfuge tactics, when what is required to the turn the tide of a match is a saving throw against all the odds. Smoke out the opposition in Vietcong Village, daze the defending enemy troops with a Thuderflash on The Berlin Wall or become an expert with a paint grenade during a shootout in Gold Rush, things suddenly step up a notch! A well-aimed paintball might eliminate one opponent, but a pyrotechnic can cause havoc within enemy positions and lead to several eliminations all at once.

Filmed on location at Delta Force Paintball South Bristol. Footage courtesy of Cloud 9 Combat
It is an unrivalled method of paintball warfare for which the player who wields the technology reaps all of the benefits! A teammate with a pyrotechnic is already ahead of the game. For just £3.99, you too could discover your inner Rambo with the Thunderflash, whilst a pound more (£4.99) will enable access to the paint and smoke grenades – why not get the whole bundle at the fantastic discounted price of £9.99! That way you get to experience the full force of exciting and decisive tactical game play without missing out.
We source the finest pyrotechnic equipment in the business. Our suppliers are in regular contact with various television and film companies, providing atmospheric smoke effects, realistic explosions and all-round expertise on anything pyrotechnic-related. This means that when you purchase with Delta Force Paintball, you are receiving industry-leading equipment that will serve you well out on the battlefield! When dealing with such items, it is also comforting to know that everything has been safety-tested by experts in the field, both at the point of origin and by our marshals.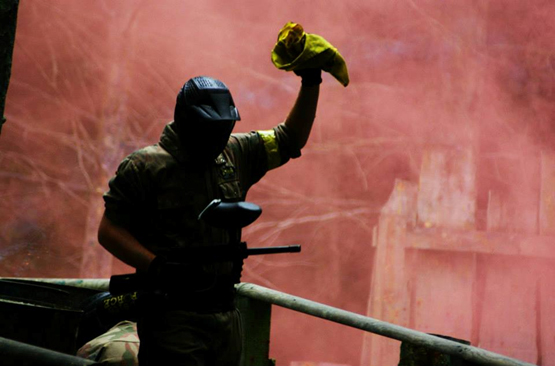 Speaking of our staff, there are huge bonuses to be made by using pyrotechnics out on the battlefield. If our marshals spot outstanding acts of bravery, clever use of a pyrotechnic or any scenario in which using a smoke or paint grenade or a Thunderflash was the most efficient option, then points will be awarded to that team. It is a crucial aspect to the game as it encourages players to think a little differently!
Overall, the pyrotechnic is a fun and extremely useful addition to have at your side when paintballing. When used safely and timed correctly, it can devastate the opponent forces so don't hesitate; stay ahead of the competition by stocking up!