FEATURE ARTICLE
Half term paintball at Delta Force!
Plan a paintball day at Delta Force during the half term holidays and experience a day of action packed adventure with your mates.
There are regular paintball events running at Delta Force centres all throughout the half term period for paintball fanatics from the age of 8 years and up. With 28 nationwide paintball centres in the UK, you're bound to find a Delta Force Paintball centre close to you to host a memorable day out.
A paintball experience day at Delta Force is a sure-fire way to bond with your mates and have a wicked day out during the holidays. Don't despair on the couch at home – get outdoors and have a load of fun! Delta Force Paintball centres are equipped with movie-set quality game zones that are themed with exciting props such as two storey castles, military tanks and even light aircraft. Experience Call of Duty action for real on the battlefield at Delta Force Paintball as you duck and dive to avoid the enemy in the haunted graveyard at the same time as expelling the zombies that ravage the woods!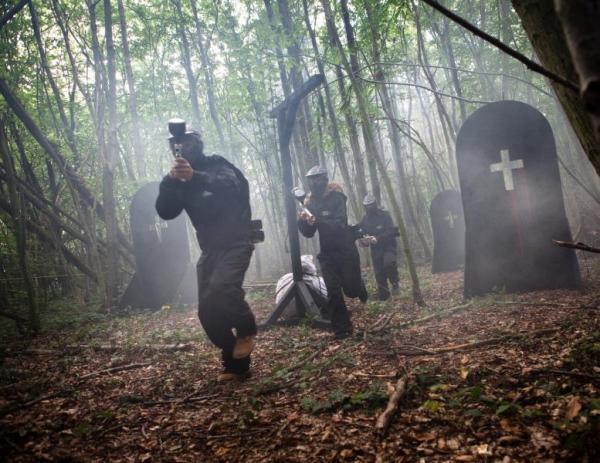 It's not only the opposition team and the zombies you have to watch out for during a full day at a Delta Force Paintball centre in the UK, you'll have to keep on your toes as the fearless Terminator wanders the woods in search of his next victim. If you're crafty and confident enough to face him in a paintball duel, you'll win his paintball gun for the remaining game – a beefed up combat paintball gun! If you're keen to prepare yourself for the day ahead with the ultimate paintball weapon, you can rent an M16 replica paintball machine gun for only £10.00 for a full day. These bad boys feature an 11'' barrel, collapsible stock and a built in sight – perfect for picking off pesky enemies. What are you waiting for? Channel your inner Rambo and practise your sharp shooting skills alongside friends and family this half term at a five star UK paintball centre.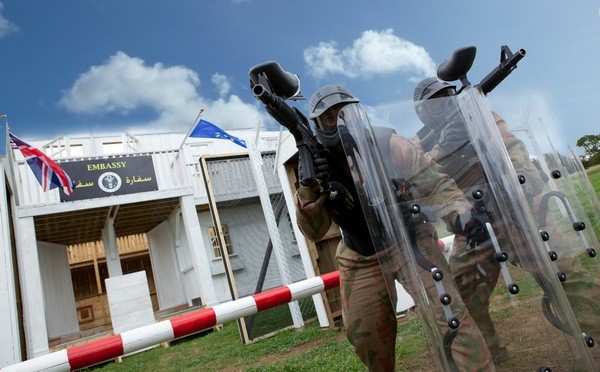 To see a range of great value paintball packages available to book for the best activity you can do this half term, view our paintball prices or book online. We regularly run seasonal offers so to receive the best Delta Force deal for your next paintball event, join our mailing list or sign up to our Facebook fan page. Call our friendly booking office now on 0844 477 5115*to check availability and book your half term paintball adventure – we're waiting to take your call!