FEATURE ARTICLE
Paintballing in Glasgow with Delta Force Paintball
Journey to the North of the border and you will soon discover paintballing is taken just as seriously, if not more so than in the South. That's why the Delta Force Paintball West Glasgow centre on the outskirts in Paisley is one of the country's most visited paintball centres and the cream of Scottish paintball! We are always looking to repay those paintball enthusiasts and first-timers who brave snow, rain and blazing heat to come and shoot seven shades of paint out of each other, so we strive to make the experience as memorable as possible. It is because of this that Delta Force Paintball is recognised by the Scottish Tourist Board – keep paying us a visit and we will keep up the high standards!
For one, the paintball game zones are truly epic. In fact, when flying in to Glasgow International Airport (hopefully you have flown all the way to come see us), take a peek out of the window and see if you can spot the enormous 30-foot pyramid from our famous Tomb Raider map! This is just one of many large-scale structures that can be found throughout West Glasgow, including double-decker buses, vast forts and a sprawling, atmospheric haunted graveyard. Try not to get the heebie-jeebies…
The Delta Force Paintball construction team work tirelessly to build awesome structures for you to decorate during intense paintball shoot-outs, so don't let them down! Our standard-issue semi-automatic paintball guns are Inferno MKII's, and these will undoubtedly assist you in helping make the natural surroundings look more colourful. Or, if you want to be a little more accurate than your gung-ho counterparts, try upgrading to the slick black M16 replica paintball machine gun, a truly terrifying piece of paintball equipment.
Along with our ultra-protective coveralls and full helmet and goggle system, you can not only look the part but also not have to worry about serious injury. Just don't be tempted to shoot an enemy (or teammate at that) from close range; not even our equipment can soften a blow from that range! You've been warned…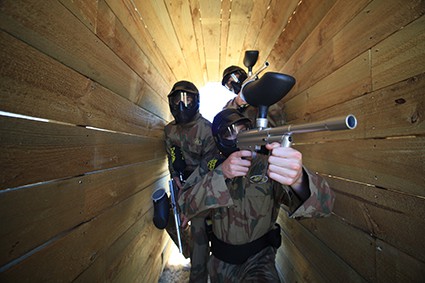 To book a day of paintball in West Glasgow with Delta Force Paintball, call our friendly event co-ordinators now on 0844 477 5115*